Apple has won a patent for its tap-to-pay iWallet tech that will block kids' accounts if they try to buy beer and tell their parents if they go shopping on Amazon.
The "parental controls" patent filed in January 2009 and granted yesterday establishes a set of rules governing what Apple's tap-to-pay chip would be capable of paying for.
Under the new safeguard system, purchases from alcohol or tobacco vendors would be blocked, and purchases from Amazon could require parental permission.
Security is a hot topic with tap-to-pay technology, and in most devices where Near Field Communications chips are used to make payments there is a maximum payment limit – usually $25 or $50. Apple's safeguard system as laid out in this patent goes a little further, authorising payments from only certain merchants, notifying parents when a purchase is made, or blocking certain payments all together. The patent is illustrated with the sample case of little Johnny's phone – at least we assume he is little because Apple has decided that he is not allowed to buy tobacco.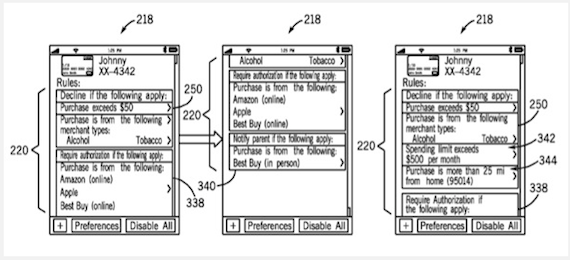 It would all be controlled through iTunes: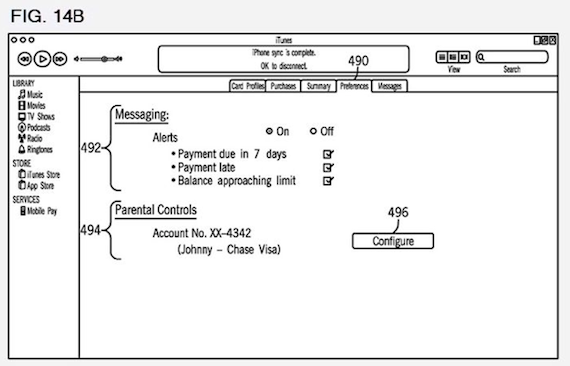 Note that iTunes becomes the portal through which the money flows: so you authorise payments, set rules and check statements only inside its confines. It's all part of Apple's push towards making iTunes a financial hub, and putting Apple at the centre of a lot more financial transactions than it already is – not transactions at the off-licence though; you'll need an Android phone for that. Or just some cash.
Apple has a series of patents related to the tap-to-pay iWallet, and another one of them was also granted yesterday, relating to tech that would allow you to send "media gifts" between NFC-enabled phones.
The 'System and method for processing media gifts payment' will let iOS owners flick Rihanna songs and iTunes credits over to each other. ®
Patent 8,127,982: Parental controls granted 6 March, 2012.
Patent 8,131,645: 'System and method for processing media gifts' granted 6 March, 2012
Similar topics