In addition to introducing "The new iPad" on Wednesday morning in San Francisco, Apple has upgraded its Apple TV set-top box to 1080p, given it a new user interface, and added a few bells and whistles.
"Apple TV is easier than ever to use with its new icon-based interface and the ability to access your purchased movies, TV shows and music right from iCloud," Apple head marketeer Phil Schiller said in a canned statement on Apple's website.
If you were one of the few fervent fanbois who thought that the Wednesday event might include the unveiling of the big-screen Apple television that has been widely rumored, you were likely disappointed. All that Cupertino introduced was an upgrade of the device that shipped in March 2007 and last received a major revamp in September 2010.
Not that this latest iteration of the Apple TV is a dog. For that matter, its predecessor was enticing enough to make it the most-popular set-top box on God's green earth, according to a December 2011 survey by Strategy Analytics that found it in 8 per cent of US homes and 7 per cent of European domiciles, garnering it 32 per cent market share among all such devices.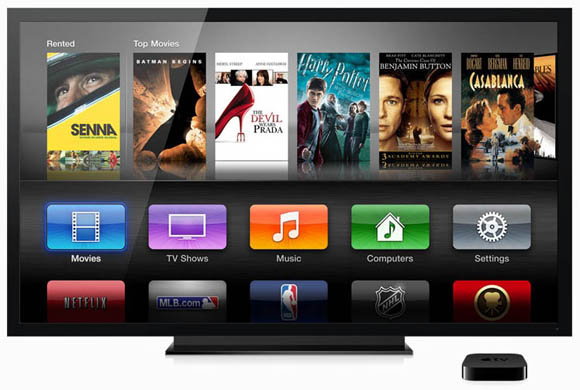 No, Apple didn't introduce the big-screen TV in this photo, just an update of the tiny black box in the corner
Perhaps the latest iteration of the Apple TV is a stalking horse for a full-on big-screen Apple television, acting as a test run to determine user reactions to the new interface and services – and perhaps not. After all, both both Steve Jobs and his successor Tim Cook have called the Apple TV a "hobby" device, and the Cupertinians may merely be tweaking their entertainment-streaming avocation while they wait for the appropriate moment to launch an Apple-branded big-screen.
In any case, the new Apple TV does add some goodies to keep fans happy. Display resolution, as we mentioned, has been upgraded from 720p to 1080p. Access has been simplified to Apple's Photo Stream capability, Cupertinosays, making it easier for photos taken on your iDevice to be auto-viewed on the big-screen connected to your Apple TV. And as might have been guessed, access to iCloud-based content – with some available now in 1080p – has also been upgraded.
Although owners of the second-generation Apple TV will have access to the new software features through a software update available on Wednesday, only the new little black box will be able to play content at 1080p. ®