Updated The cryptic teaser - "And touch" - in Apple's invitation for its much-hyped event today has prompted speculation that the screen on its next-generation iPad will be a silky, lumpy riot of shifting textures that will delight the spasming fingertips of those lucky enough to fondle it.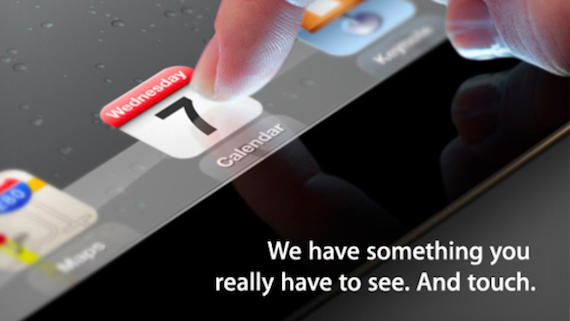 We have something for you to see. And touch. And buy. Again and again.
It's predicted that the new tablet will use a haptic screen. The rumour is backed up by evidence that Apple has been working with a sensory display company called Senseg, whose boffins have designed touchscreens that feature complex software-changeable per-pixel textures: the sensations run from corrugation to smoothness or softness.
The Reg wrote about Senseg last week after bumping into the bumpy team at Mobile World Congress. Our man Bill Ray explained how it works:
The technique is horrifyingly clever, an electrostatic charge is used to pull one's finger infinitesimally closer to the screen on demand, which manifests as apparent lumps and bumps on the screen replicating (in the demonstration) fabric, corrugations, or even fur.
However, given Bill's analysis of the technology, it doesn't sound as though it's quite ready for an alpha launch:
The effect is not perfect by any means, and at its most basic is comparable to the kind of vibrational haptics being advocated by Immersion. However the fact that the vibration is delivered to the finger, rather than the device, is a compelling differentiation and makes the experience a lot more comfortable.
Apple doesn't usually go for beta-level tech - unless, perhaps, Apple hasn't build the new iPad to offer textures as complex as fur and will only enable primitive effects.
However the "touch" in the invitation could simply refer to the fact that the next iPad will have a new high-definition touchscreen - or simply a physical presence. Something not to be taken for granted in these days of machine virtualisation. ®
Updated to add
The new iPad's actual specs are right here.