This article is more than 1 year old
Pacific nation prepares to flee rising seas
Kiribati starts to pack its suitcases
The Pacific nation of Kiribati has initiated a long-term plan to up sticks to Fiji, as rising sea levels threaten to swallow its homeland.
Kiribati comprises 32 coral atolls in four island groups spread across 1,351,000 square miles (3,499,000km2) of ocean. The total land area is 313 square miles (811km2), with the highest point above sea level a mere 2 feet (0.6 metres).
The United Nations Intergovernmental Panel on Climate Change has warned that Kiribati is among those island states under "serious threat of permanent inundation from sea-level rise", and president Anote Tong is planning ahead against such an eventuality.
As the Telegraph explains, he's been negotiating with the Fijian government to buy 5,000 acres (20.2km2) of land as a possible future home for Kiribati's 113,000 residents, most of whom live on Tarawa (pictured, below), in the Gilbert Islands group.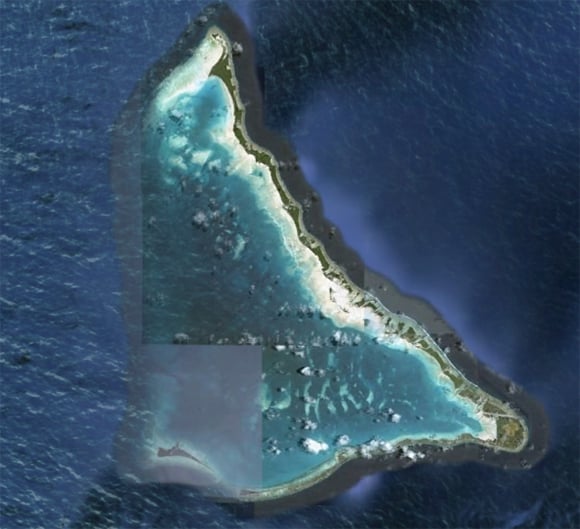 Tong doomwatched: "This is the last resort; there's no way out of this one. Our people will have to move as the tides have reached our homes and villages."
Kiribati's population won't, however, be packing their suitcases and relocating en masse. Tong's plan involves a gradual migration, with skilled workers the first to make the move.
He explained: "We don't want 100,000 people from Kiribati coming to Fiji in one go. They need to find employment, not as refugees but as immigrant people with skills to offer, people who have a place in the community, people who will not be seen as second-class citizens."
Accordingly, Kiribati now has an Education for Migration scheme, through which it hopes its population can become more skilled, and therefore more attractive, as potential immigrants.
Dr Alumita Durulato of the Fiji-based University of the South Pacific, where Kiribati undergraduates take their degrees, said of the strategy: "They are already preparing quite well. They have educated their youth to be able to survive in the new lands that they want to go to."
Kiribati was a British possession until it gained independence in 1979. Its name comes from the local pronunciation of "Gilberts", the country's main group of 16 islands named in honour of Captain Thomas Gilbert, a British sailor who sighted them in 1788. ®