Micron warms up solid hardness, shoves in PCIe hole
Hot-swap flash drives get cosy with Dell boxes
It's PCIe flash, but not as we know it. A Micron SSD can now snuggle up as close as it likes to servers because it has been given a server PCIe bus interface. Dell loves the idea.
Dell is using the PCIe-interface version of Micron's P320h SSD in its 12G PowerEdge servers. We knew it was using Micron SSDs, which normally have SATA interfaces, but we didn't know about Micron's cunning plan to give its P320h flash memory card a 2.5-inch solid state drive form factor and so produce a PCIe SSD.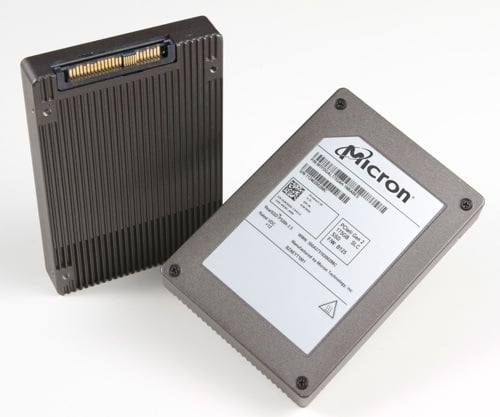 Micron's PCIe-interface P320h-based SSD
This is hot-swappable with access at the front of Dell's servers. That means failed units can readily be replaced and ones with more capacity could replace existing ones or be added to empty slots alongside them.
Micron has developed its own hardware controller for this SSD, with firmware and software. It has a combo connector that allows the device to be plugged into backplanes where there are also SAS and SATA devices.
The P320h is a half-height, half-length (HHHL) PCIe gen 2 x8 interface card with 350GB or 750GB capacity using 34nm SLC flash chips. Putting it into a SSD form factor means less physical space, and capacity drops to 150GB or 300GB and there us an x4 PCIe 2 interface. Micron isn't giving away any details; more will be provided at a launch later this year. But the 350GB P320h does 715,000 random read IOPS, 298,000 random writes, has a 3.3GB/sec sequential read bandwidth and a 2GB/sec sequential write bandwidth. We might expect the SSD-packaged version to be in the same area.
Micron and Dell want to encourage other server and SSD suppliers to adopt this form factor and interface and have set up a SSD Form Factor Working Group to do that.
The P320h HHHL card is in production while the P320h SSD is sampling to other potential OEMs, both server and storage ones. We could imagine storage array suppliers might be interested in a simply scalable flash array with hot-plug, hot-swap, front-loading SSDs that plug into their array controller's PCIe bus.
Micron has acquired the assets of Virtensys, a supplier building PCIe fabric switches that connect servers and peripherals, such as storage arrays, to a PCIe bus enabling the servers to share the peripherals. The potential here is for end-to-end PCIe connectivity between servers and their storage, with shared arrays having all the speed of direct PCIE-connect peripherals.
With Adaptec, Intel and Seagate demonstrating a Xeon E5-2600-powered server enjoying 6.6GB/sec of read data from 22 Seagate Pulsar.2 SSDs – connected through a PCIe gen 3-supporting Adaptec RAID card – we can readily see the possibilities for a step-change up in server-storage I/O capacity. ®