'The new iPad' revealed: Full specs, rumor scorecard
4G, high-res display, new processor, 1080p camera...
Updated As expected, Apple announced its latest iPad at an invitation-only event* in San Francisco to a crowd of happy journos and live-bloggers. There's a good bit new about the latest iPad – but not its name. The updated Cupertinian fondleslab was merely referred to as the "the new iPad" or the "third-generation iPad".
For weeks before Wednesday's unveiling of the new iPad, the rumor mill had been spinning at gas-turbine velocity. So we at The Reg thought it might be wise to gather up a passel of the most prominent prognostications, and see how reality now stacks up with fantasy.
So, without further ado, in alphabetical order:
4G/LTE wireless connectivity: Yup, it's in there as an option. Apple claims LTE maxes out at 72Mbps, and there's also HSPA+ for up to 21Mbps and dual-carrier HSDPA for up to 42Mbps. There's a 3G EV-DO version available, as well. Carriers at launch will include Verizon and AT&T in the US – two different versions, of course – plus Rogers, Bell, and Telus elsewhere. Also, the new iPad can be a personal hotspot – if your carrier supports that feature – for up to five devices. Despite 4G's rep for being a battery-sucker, Apple claims that battery life for 4G usage will be nine hours, and 10 hours for 3G – same as before.
8GB iPad 2 availability: Not a peep – but the price of the entry-level 16GB iPad has been dropped to $399.
Camera improvements: It was widely assumed that the new iPad would upgrade the iPad 2's silly li'l one-megapixel, 720p rear-facing camera to eight megapixels, and possibly also improve its "VGA-quality" – 0.3 megapixels, or 640 by 480 – front-facing video-chat camera. Well, the new new iPad has a back-facing five-megapixel camera with an IR filter, automatic focus and white balance, autofocus lock, face detection, and shoots 1080p video with video stabilization and noise reduction. Despite being five and not eight megapixels, we'll judge the "improved camera" rumor as being correct.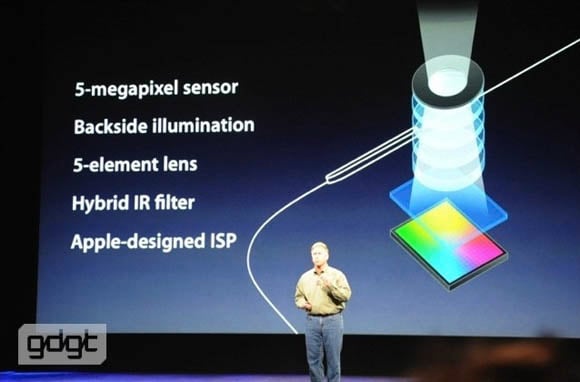 The new iPad's rear camera is greatly improved – although, frankly, that wasn't difficult (source: Gdgt)
Debut of a 7.X-inch iPad: A spate of rumors pointed towards a smaller form-factor iPad, with screen sizes variously reported to be 7.1 or 7.85 inches – despite what Steve Jobs said about a small-screen iPad being, well, too small. Didn't happen – but since some rumors have put this iPad mini's release in the third quarter of this year, this possibility still remains. Still, the rumor is busted.
End of integer naming: The original iPad, of course, wasn't called the iPad 1, but its follow-on was dubbed the iPad 2. Some observers swore that the new fondleslab would be called the iPad HD (although, in Apple's traditional parlance, the definite article would be omitted) and some said it would be called the iPad 3. However, there is no new name for the iPad – it's just the "third-generation" iPad or "the new iPad" – and yes, Apple broke tradition and used "the". Actually, this naming makes sense in that it follows the naming convention of, say, the MacBook Pro and the iMac. If the iPad is, as Apple CEO Tim Cook said, "the poster child of post-PC world," it may be time for the child to assume its parents' naming conventions.
Disappearance of the Home button: Some observers, peering at Apple's February 28 email invitation to Wednesday's rollout, concluded that the new iPad would be Home-buttonless. They were wrong.
High-resolution display: Up until today, the iPad's display was 9.7-inches at 1024 by 768 pixels and 132ppi. The assumption was that Apple would double that resolution in both directions to 2048 by 1536, thus allowing earlier iPad apps to run without rejiggering. That 264ppi "Retina Display" assumption was correct – because, Apple claims, if you hold an iPad at a "normal viewing distance" of 15 inches, you won't be able to discern individual pixels.
Higher price: There was widespread speculation that the new iPad's base price in the US would be bumped up by $80, and reset at $579. Didn't happen for the 3G model, which will still run $499, $599, and $699 for 16GBB, 32GB, and 64GB models, respectively. The 4G models run $629, $729, and $829 at the same capacities. The rumor mill was wrong.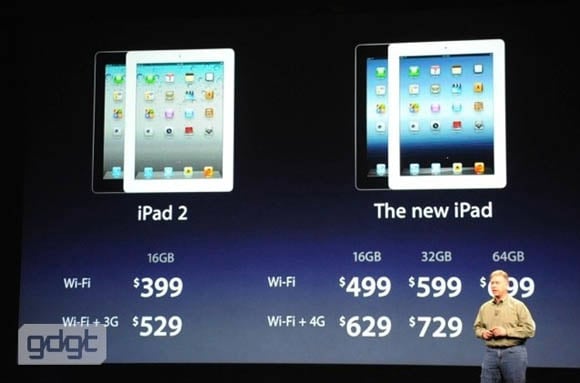 At $399, the 16GB iPad 2 won't tempt too many prospective Kindle Fire purchasers (source: Gdgt)
March 16 availability: Yes, and pre-orders start today – your choice of black or white.
More-powerful processor: Dualing rumors had the new iPad being powered by either a quad-core A6 processor or a revamped dual-core chip dubbed the A5X. The A5X name was correct, and so were the quad-core rumors – but only to a limited extent. "Quad-core" refers only to the A5X's graphics processor, not the compute cores. Apple marketing honcho Phil Schiller, who introdued the new iPad, didn't reveal the A5X's clock speed – the iPad 2's A5 runs at 1GHz – but he did say that its performance is four times faster than the A5, and that it's a "graphics powerhouse."
Microsoft Office for the iPad: Microsoft told The Reg late last month that reports of Office coming to the iPad were based on "inaccurate rumors and speculation." They were telling the truth – so far, at least.
Siri voice-operated commands: Although Cook demoed Siri on the iPhone in Australian, French, and German, and announced that "Today we're bringing Siri to Japan" in iOS 5.1 (available today), no mention was made of Siri for the iPad. Chalk this rumor up as a FAIL.
Thicker, heavier form factor: Schiller said that the new iPad "remains amazingly thin at 9.4mm and light at 1.5 pounds." The iPad 2 is 8.8mm thick and weighs 1.33 pounds. Rumor correct.
Upgrades to iOS: Nothing worth mentioning other than the fact that the new higher-resolution display is supported – as should be obvious – and that developers won't need to upgrade their apps to merely have them run at thee new resolution, as was true when the iPhone moved to a higher-resolution display. There are, however, significantly upgraded versions of GarageBand, iMovie, and iPhoto – and since those apps are so closely tied into iOS, we're going to give this rumor a "confirmed".
The rumor mill, it seems, was relatively accurate this time around. We would have preferred to learn of a low-price 8GB iPad 2, and the chubbying-up of the new iPad makes it a bit less likely to replace our Kindle for day-to-day reading, but the better-performing processor and the move to 4G wireless connectivity make confirmation of the more-important rumors welcome. ®
* Bootnote
The Reg, as has been true for quite some time, remains on Apple's blacklist. We did not receive one of the cherished invitations to Wednesday's event in the 757-seat Novellus Theatre at the Yerba Buena Center for the Arts – even though it's mere blocks from Vulture Annex here in San Francisco – so our info about the new iPad was gleaned from the live blogs of Gdgt, Ars Technica, Mashable, and Cnet.
Update
An earlier version of this story referred to the A5X as being a quad-core chip. However, as Apple notes on its website, the new iPad's processor is a "Dual-core Apple A5X custom-designed, high-performance, low-power system-on-a-chip with quad-core graphics."