iPad ownership is rocketing in Europe's five leading economies, with more than 11.4 million people now in possession of an Apple fondleslab, market watcher ComScore said today.
That total, for January 2012, is almost double - the rate is 75 per cent - the 6.5m iPads in punters' hands in France, Germany, Italy, Spain and the UK in February 2011.
iPad ownership has grown particularly strongly in Blighty, with the total number of Apple tablets in the hands of Brits jumping 115 per cent between February 2011 and January 2012, the research company's numbers show.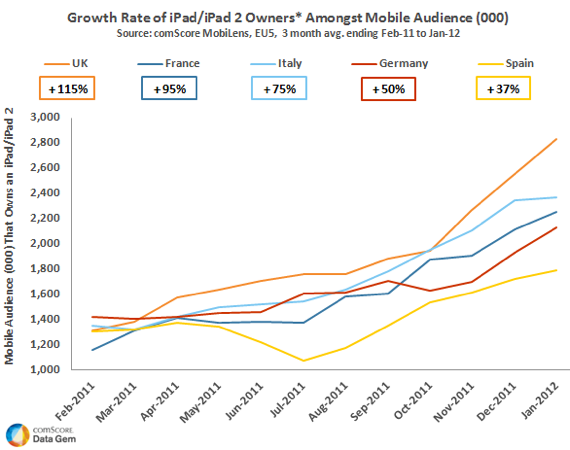 But France isn't far behind with a growth rate of 95 per cent. Italy clocked up 75 per cent ownership growth, Germany 50 per cent and Spain 37 per cent.
Only Spain and Italy have seen the ownership graph begin to plateau of late, and that's perhaps no surprise given the state of their economies.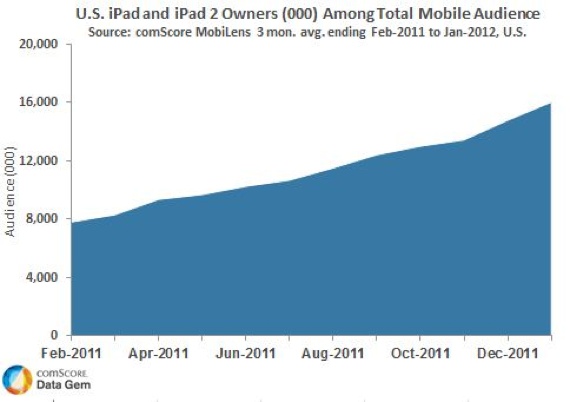 ComScore tracks what it calls the "mobile audience" - mobile phone owners, in other words. Looking at the equivalent group in the States, iPad ownership went from just under 8m in February 2011 to 16m by January 2012. ®
Similar topics