Poynt
Steer yourself to cheaper petrol
iOS App of the Week

With the price of petrol hitting yet another all-time high, I decided to try and find an app that could save us all some money when we fill up our tanks.
Also available on BlackBerry and Android, Poynt started out as an app for locating nearby businesses, such as restaurants and cinemas. But the developer recently partnered with the Whatgas website in order to add a database of 8700 UK petrol stations and allow motorists to quickly locate nearby fuelling sites and look for the best prices.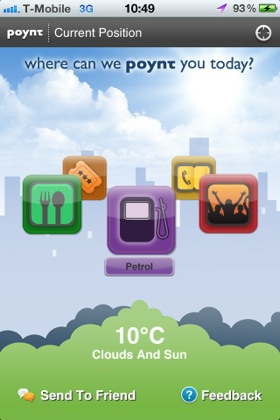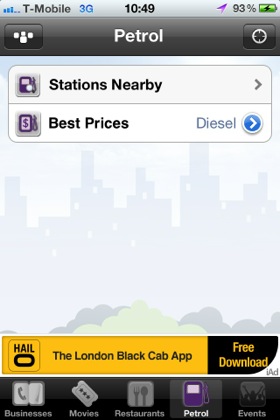 Poynt locates businesses, including fuel stops (left), which you can track by fuel type (right)
The app's home screen displays a revolving carousel of icons representing different types of businesses, so when you need a quick top-up you can just tap on the 'Petrol' icon to start searching.
The app provides two simple options here, allowing you to sort nearby stations either by distance or price. On a recent trip into London's West End, Poynt threw up prices ranging between 132.9p and 142.0p within a 4km radius – enough to make a decent saving on a full tank.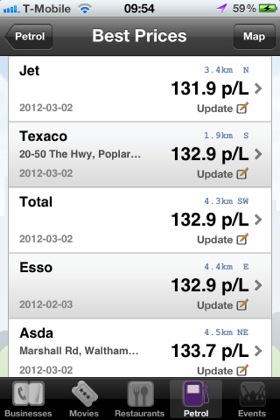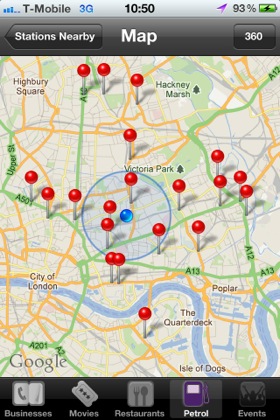 Find the cheapest gas (left) and see where it is on the map (right)
You can also search for specific types of fuel, such as diesel or any one of a dozen types of unleaded.
You can view local stations on the iPhone's standard map display, or flip the phone into landscape mode to switch into an augmented reality view with markers for stations superimposed over the image on the phone's camera – which seems to me like a sure-fire recipe for causing an accident if you're using the app while driving.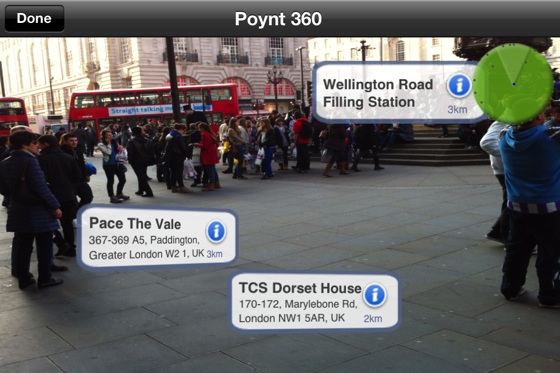 See the way to nearby filling stations, AR-style
Poynt tells me that the price info on the app is updated on a daily basis, but the Whatgas website relies on feedback from its users to keep its database up to date, so you shouldn't expect it to be 100 per cent accurate.
Thankfully, a quick spin around some local stations in East London proved it to be pretty much on the ball. You also have the option of sending your own updates from within the app if you want to do your bit for the Whatgas community.
The app is free too – though ad supported – so it's certainly worth downloading if it can help to save a few quid on your petrol bill every week. ®
We make our selection of the best iPhone, iPod and iPad downloads every Thursday. It you think there's an app we should be considering, please let us know.
More iOS App of the Week Winners

Ten iOS Games
Grid Lens
Red Cross
First Aid
CNN
TVCatchup

Poynt
A quick and easy app for comparing nearby petrol prices – but reliant on user-feedback to keep it up to date.
Price:
Free (ad supported) RRP