Apple to Google Maps: 'Get lost'
iPhoto geo-tagging switched to OpenStreetMap
---
Thanks heavens it's only for photo-tagging: Apple has tossed yet another gauntlet onto the ground in its ongoing spat with Google, dropping Google Maps out of iPhoto for iOS and opting for OpenStreetMap instead.
The move was the subject of speculation for a few days before being announced on the OpenStreetMap Foundation blog.
The shift appears to have been spotted by one Ben Collier who put this image up on Twitter, and which was subsequently noted by The Next Web here.
The OSM data – after a quick massage by Apple – is displayed when users use iPhoto's "locate" feature to display where the photo was shot. According to the OSM Foundation, Apple has taken a data set from 2010, which it is serving from its own infrastructure.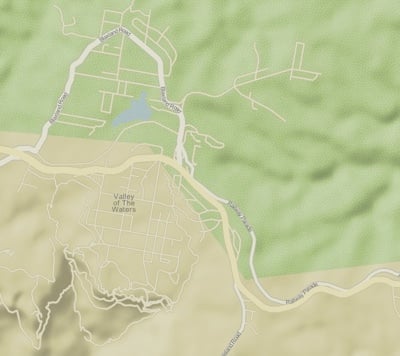 Apple's reworked OSM tiles: 'Valley of the Waters' isn't
the name of the town, and isn't in the right place
While the shift away from Google Maps means iOS users won't be sharing their locations with Cupertino's dread enemy in the Chocolate Factory, it will give users the joyful uncertainty of OSM data quality – particularly after the data has passed through Apple's hands on the way.
For example, the image to the right (of a NSW location more correctly known as "Wentworth Falls") shows the kind of labeling users frequently encounter in the world of crowd-sourced mapping – particularly in locations where the crowd is smaller.
Oh well; at least it's not being used for directions. ®