This article is more than 1 year old
Lingerie-clad she-devils romp past watchdog
ASA rejects Agent Provocateur vid complaint
NSFW The Advertising Standards Authority has rejected a complaint that an Agent Provocateur video featuring a pack of lingerie-clad she-devils menacing another woman is "disturbing and misogynistic".
The vid first appeared on the company's website last November to punt its Soiree 2011-2012 collection. The ASA summarises that it shows "a woman in a nightgown in her home", who's set upon by several minxes "wearing revealing lingerie with stockings and long boots" and who "were shown dragging the other woman through the house and adopted a series of poses, some sexual, alone and with the other women".
If your nerves can stand it, you can eyeball the whole shocking business right here (NSFW), but here's a taster of just how far underwear advertising has come since 1960s Wonderbra commercials: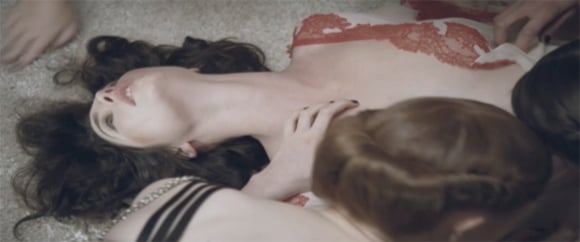 The ASA received a single complaint about the video, challenging that it breached CAP Code clauses 4.1 ("must not contain anything that is likely to cause serious or widespread offence"), and 4.2 ("must not cause fear or distress without justifiable reason").
Agent Provocateur defended the video by arguing that it was "a unique take on the horror genre with a signature Agent Provocateur sensibility and eroticism", with a tip of the hat to "classic 1950s Hammer horror films" thrown in for good measure.
Stressing that it "did not condone violence in any form", the company noted that the promotion "had been viewed over 450,000 times since its launch and there had not been any other complaints".
The ASA ruled that while "some viewers might find some of the scenes distasteful", it considered "the highly stylised nature and clearly fictional content of the video meant it was unlikely to be interpreted by most viewers in the way the complainant suggested".
Accordingly, the watchdog declared such videos "did not demean women and were unlikely to cause serious or widespread offence", and kicked the complaint into touch. ®