This article is more than 1 year old
'The new iPad' selling out at AT&T
White guys in short supply
If you're planning to preorder your "The new iPad", you better get cracking – some models of Apple's revamped "magical and revolutionary" fondleslab are already on backorder.
As of 8:30am Pacific time on Thursday, two capacities of the 4G model of the white "The new iPad" from AT&T were listed on Apple's online store as "Ships: by March 19", while other models – including all 4G models from Verizon – were listed as "Delivers on March 16".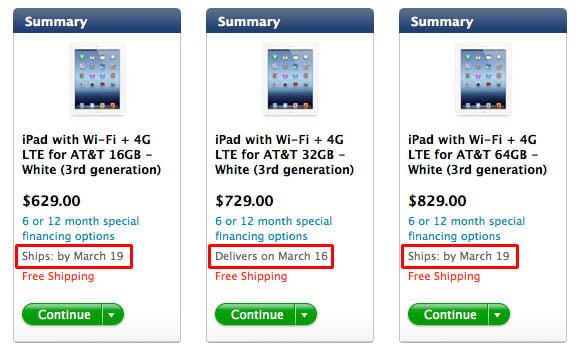 Will more 'The new iPads' move into the 'not yet' category? Bet on it
In the first quarter of Apple's fiscal 2012, which ended as the holiday shopping season ground to a close, the Cupertinian tabletmaker sold 15.4 million iPads. "The new iPad" ships near the tail end of Apple's second 2012 fiscal quarter, and its impending arrival presumably depressed iPad 2 sales during that quarter
It's likely that Apple won't match its Q1 iPad numbers in Q2 – but we're willing to bet that pent-up demand and the growing acceptance of tablet computing will push "The new iPad's" numbers to new heights in Q3.
Are we headed into a period in which iPads dominate casual computing and Ultrabooks become the new standard for computer-tethered working folks? ®