3D: 10% of LCD TVs in 2011, 25% in 2012
Passive catching up with active
---
Still think 3D TVs are popular? We hate to say it, but only ten per cent of LCD TV panels that shipped in 2011 were 3D capable.
So reveals market watcher NPD DisplaySearch, which noted that some 212m LCD TV panels shipped last year.
That said, the picture isn't entirely a poor one for 3D. Its share of LCD TV panel shipments increased quarter on quarter during 2011, reaching 14.2 per cent of total shipments during that three-month period.
DisplaySearch's prognosis is that this trend will continue through 2012. Come Q4 this year, 25.7 per cent of the LCD TV panels that ship during the quarter will be 3D capable.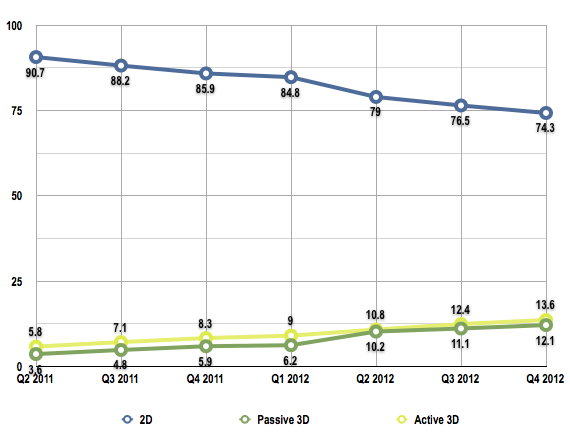 Data source: NPD DisplaySearch
Percentages rounded
The interesting stat for those following the passive vs active battle: by the end of the year, there will be almost as many of the former shipping as the latter: 12.1 per cent of total quarterly LCD TV panel shipments to 13.6 per cent.
Taking the year as a whole, 21.6 per cent of LCD TV panels that ship will be able to do 3D.
"As brands continue to promote 3D, user awareness and interest is growing," said DisplaySearch's David Hsieh. "While there are still concerns about the lack of 3D content and services, as well as users' needs, LCD TV panel makers have pushed 3D capability via lower prices and the introduction of new, cost-effective technologies."
Bottom line: make 3D TVs cheaper and people will come, and passive is one way to make 3D TVs cheaper, because static, polarised specs cost next to nothing.
But, as panels get cheaper in any case, 3D will cease to be a top-of-the-range feature and move downmarket. As we've said before, it won't be long before almost all HD TVs are also by default 3D TVs. ®