IBM shines light on terabit-per-second optical chip
The hole truth
---
Need to get a lot of data - and I mean a lot of data - around your system? Look no further than this new chip from IBM: a part capable of shifting one trillion bits every second.
It's only a prototype, of course, but the part Big Blue marketing bods are calling the Holey Optochip can, claim the companies' spin merchants, transfer 30,000 HD movies a minute - eight times faster than current optical transceivers can manage.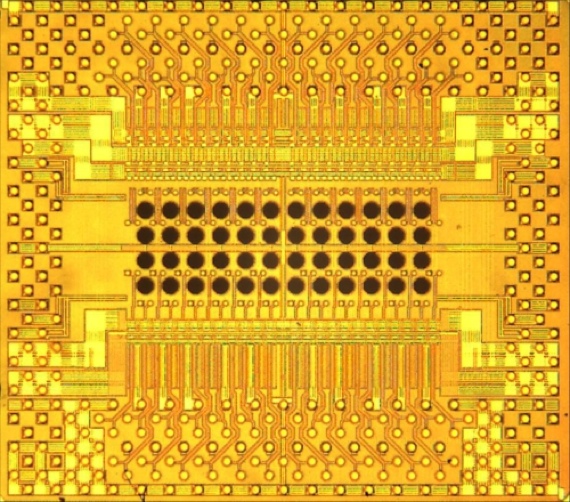 The secret is in the holes...
The Holey Optochip contains 24 optical receiver units - an array of photodiodes - and the same number of transmitters: 850nm Vertical Cavity Surface Emitting Lasers (VCSELs). Each is connected to a fibre-optic link routed through 48 holes - the techies call them "optical vias" - cut through the chip's centre.
Creating optical chips isn't tremendously difficult, but making room for as many receivers, transmitters and, crucially, their optical links as possible is hard. The more of these units you can build into the chip, the more bits you can shift simultaneously. This parallelism is key to upping the part's overall bandwidth without ramping up the power requirement.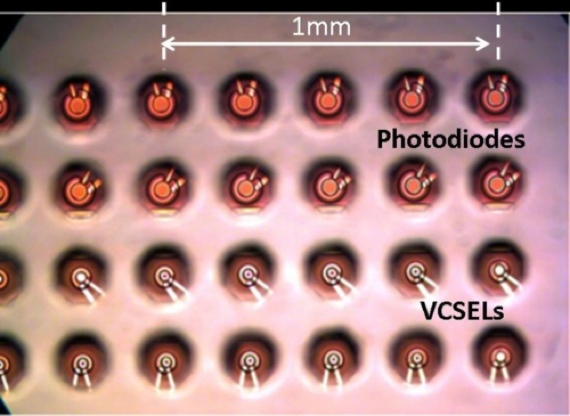 The 90nm, 5.2 x 5.8mm CMOS chip consumes just 5W of power, IBM said.
IBM said the Holey Optochip module is constructed with components that are commercially available today, making it easier to translate the prototype design into shipping product than is often the case with new chip tech.
IBM will be showing off the chip at the Optical Fibre Communication Conference, which is currently taking place in Los Angeles. ®