This article is more than 1 year old
Renault Mégane 265 Trophy 2.0 turbo
Tuned to perfection
Review

Lap times around the fearsome 13 mile Nürburgring have become a touchstone for performance road cars in recent years. Renault's new Mégane 265 Trophy has been hustled around in 8m 08s, which is the current lap record for a front-wheel drive car.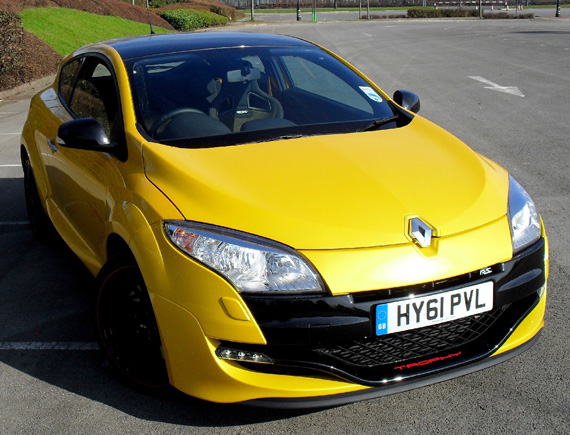 Not a subtle car
To put that into context, a well driven Porsche 911 GT4 can do it under 7m 30s, while the best I've ever managed – driving a Volkswagen Golf R32 – was 12m 32s. Yes, I know it's possible to get a Ford Transit around faster than that. So what we have here then is the hottest of hot hatches that certainly spices up Car Week.
The 265 Trophy's 2-litre turbocharged petrol engine is a wee bit more potent than that found in the common or garden Mégane Cup. For a start, the Turbo boost has been pumped up to 2.5bar and the engine management has been remapped to liberate an extra 15bhp and 20Nm of torque.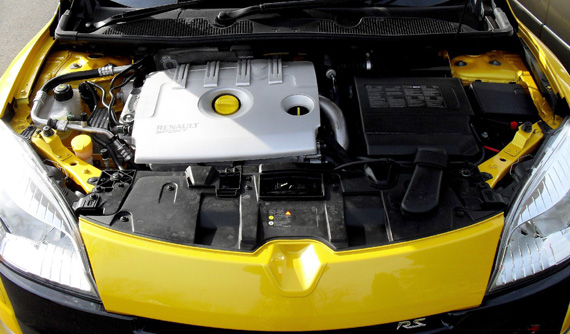 Not much to look at but a truly excellent engine
These increases take the Trophy's power and torque totals to 265bhp and 360Nm at 3,000rpm, respectively and deliver a power to weight ratio of over 191bhp per tonne, which isn't at all bad for a hatchback costing less than 30 grand.
There have been no changes made to the Mégane 250 Cup's excellent chassis, Renaultsport rightly reasoning that it is more than good enough as it stands. However, a set of high performance and, apparently, Formula-One inspired Potenza Bridgestone RE050A tyres on 19in alloy wheels have been added.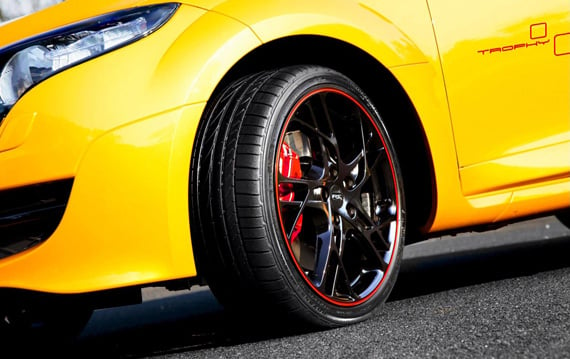 F1 inspired tyres and Trophy decals
The impact of the extra power and torque is as subtle as it looks on paper; the top speed is nudged up by 2mph to 158mph, and the 0-62mph time falls by a tenth to six seconds on the nose. On the road, power is delivered in a very progressive manner and, thanks to the slick six-speed manual gearbox's relatively long ratios, you don't need to swap cogs too frequently. In short, this an easy car to keep moving at high speed.