Renault Mégane 265 Trophy 2.0 turbo
Tuned to perfection
Torque of the town
And it's just as easy to keep moving at low speeds. Such is the engine's tractability that if you find yourself stuck in slow moving motorway traffic, you can easily cruise along at speeds as low as 20mph in 6th and still accelerate smoothly when you press the throttle.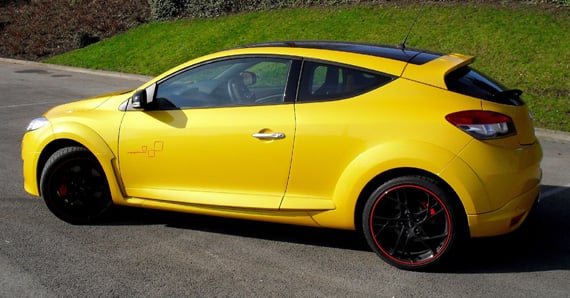 Faster than a rocket-powered banana
With so much power going through the front wheels, torque-steer is evident despite the mechanical limited slip differential and is especially noticeable when pulling out of tight, slow corners. Still, it's better contained than I expected and does little to get in the way of the Mégane's innate agility.
The brakes are nigh-on perfect. The new wheels and tyres have done nothing for the ride though, which is very firm especially at low speed over urban roads with broken or pot-holed surfaces. At higher speeds, and along smoother tarmac, everything settles down nicely. So long distances can still be covered at pace and in comfort.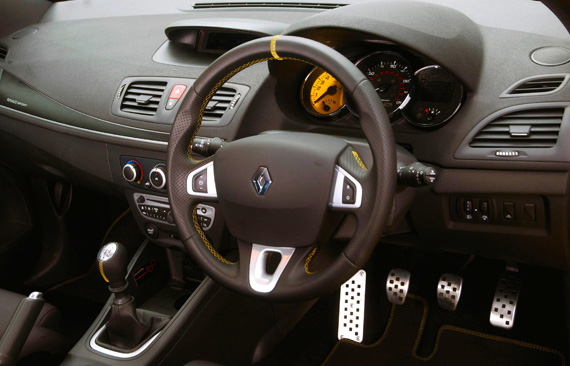 Interior a bit cheap but everything in right place, apart from handbrake
The steering is very precise and gives the driver plenty of feedback about what's afoot at the sharp end. The amount of grip the Trophy finds and the minimal understeer, is a testament to the highly successful partnership between the fancy rubber and the finely tuned electronic stability system. The Trophy also sounds as good as it goes. At full throttle, the lovely mechanical growl is complemented by the sucking noise emitted by the turbo-charger. And complaining about that, is like moaning about there being a vocal part in Beethoven's Ninth.
Inside the car things take a bit of a turn for the worse due to an expanse of grey plastic. Yet for the cabin to match the mechanical underpinnings, it would need be a mix of Jaguar XKR and Lockheed Martin F-22.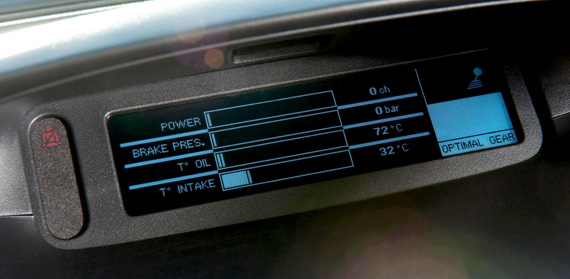 How hot is my turbo?
On a more positive note, the Recaro seats are superbly supportive and surprisingly comfortable even after several hours behind the wheel. The driving position is spot-on too, with the pedals perfectly positioned and the footrest exactly where it ought to be.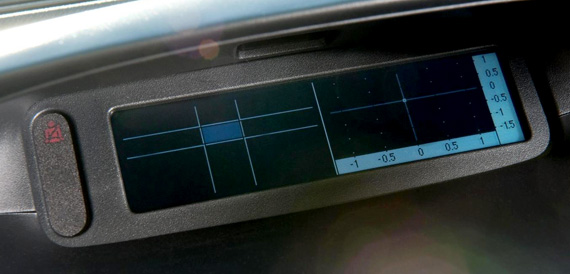 G-force meter
With a nod to track day enthusiasts, the on-board computer can show you transverse and longitudinal acceleration, record 0-62 and standing quarter mile runs, keep track of lap times. It also shows various technical parameters such as the temperature of the air in the turbo charger and the turbo boost pressure. You can even adjust the throttle pedal's sensitivity.