Renault Mégane 265 Trophy 2.0 turbo
Tuned to perfection
Handbrake turns
If I had to pick a hole it would be the positioning of the handbrake, which is clearly optimised for left-hand drive. The problem is that the angle of the lever combines with the design of the bucket seats to guarantee that using it involves stroking your passenger's thigh. Not an issue when I had the missus in the car, yet less than ideal when I was using the Mégane to rush the tough as nails lead singer of Salford rock band HankyPark to a gig.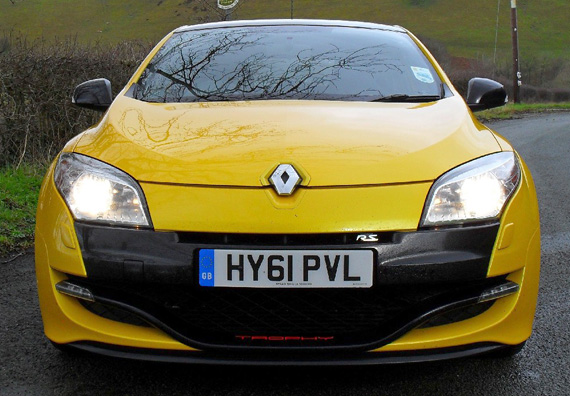 Works in the wet too
There's also no USB port for your music, something now fitted as standard to many cheaper but more modern Renaults. At least the Bluetooth phone connection is easy to set up and proved completely reliable in operation.
Back to the block now though, and what effect has all this tweaking and tuning had on economy? Impressively, on the urban and extra-urban text cycles, the Trophy is actually more economical than the Cup returning 25 and 43.5mpg respectively.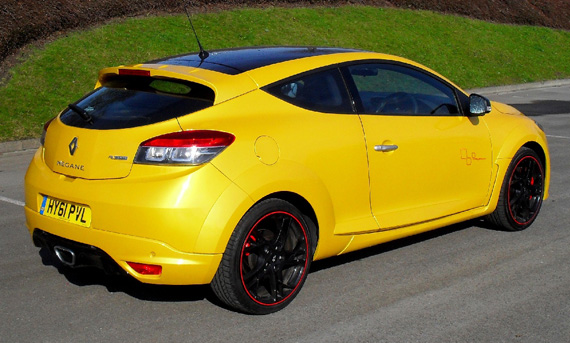 Rear spoiler get the tailgate dirty but looks good doing it
The combined cycle average consumption of 34.4mpg and CO2 emission figure of 190g/km are the same suggesting that when all is said and done there's little in it. During my week with the Trophy I averaged 32.5mpg.
If you want a 265 Trophy you will need to move fast. Only 500 have been built and only 50 have made it to Blighty. But the good news is that the same engine will be fitted to the new Mégane Renaultsport 265, which will be launched in April. Incidentally, buy a 265 Trophy and you get free access to all Renaultsport's UK track days in 2012, which is worth around £650, though you will probably burn through that saving in tyres.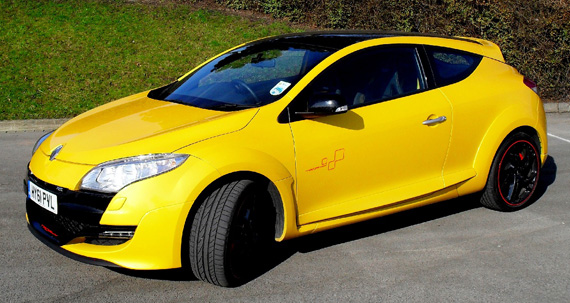 Looks the business and attracts attention
Verdict
As hot hatchbacks go, the Mégane Trophy is one of the very best. How Renault has managed to get this much power and torque through the front wheels – and still end up with a car that is so drivable – is a mystery but I'm glad it has. The cabin is a bit on the cheap side but everything works and, more importantly for a performance car, the driving environment is ergonomically sound. ®
More Car Reviews

Kia Rio
Nissan Leaf
2011's Best...
cars
Toyota
Yaris
Smart
Fortwo

Renault Mégane 265 Trophy 2.0 turbo
The hottest hot hatch money can buy.