Copyright: make it shorter, leaner, more effective
What I do gather from politicians is that they do have issues with the copyright industries. But the irrationality and obstinacy of the no-enforcement crowd, the digital rights activists, throws the politicians unequivocally in the pro-copyright camp. They read the rhetoric of the "No" crowd and are now practically calling up copyright groups and asking them: "What can we do for you?"
"I wrote this paper that's perhaps a little silly; it's called Copyright in Three Dimensions. One dimension is how long it is - how long the copyright term lasts. One is how wide it is - what it covers. Does it cover a book in translation, a parody, and so on. And the third dimension is how deep it is, which is how seriously it's enforced.
"To me, the ideal copyright to encourage creativity and innovation would be for it to be much shorter than it is now, to cover a little less than it does now, and with a little more flexibility, but it would really need to be enforced. Right now we have copyright that lasts almost forever, covers too much, and it's not effective.
"Movies made in 1940 are not worth that much to Google. What they want is no enforcement of copyright. So you get a longer copyright that doesn't work at all. The biggest problem is not that copyright lasts forever, but that it doesn't work.
"Now at the publishers' event at Westminster last night you said that five years ago you thought there would be healthy digital markets by now. And we don't have them."
Five, maybe ten. But we don't have them, no. It doesn't look like we're going to have growth. People really don't want to live in the future Google offers them. Economically, Google World offers people nothing.
"The average person doesn't want to live in the world offered by Google - but they're not going to go on the streets, in the cold, to protest that. With ACTA, they feel passionately about it.
"The general public knows piracy is wrong, but they don't want a strong punishment for it. They're fine with a strong punishment for large-scale infringement."
It's pretty easy to join an online protest - click, there, I've just done it
The Ideology of Wikipedia
"I've taken a lot of shit for saying it, but it's important to realise Google gives money to organisations like Wikipedia. I was amazed how journalists didn't mention this - to not report on it is an abdication of responsibility. For example the Kahn Academy [a free online educational resource] gave a lesson on SOPA that was quite inaccurate. That got money from Google. Maybe somebody ought to mention it somewhere?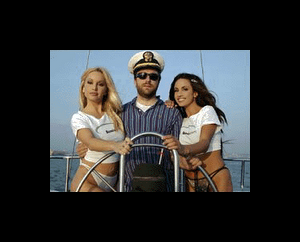 Jimmy Wales
"Mike Godwin [former Wikimedia counsel] was saying on Twitter [to me] 'How dare you suggest Wikipedia is anti-copyright?'
"Hey, I think Wikipedia is great. But I went to a Wikimania conference and I got the impression that a lot of Wikipedia people really do not like copyright. These are not your Average Joes. It's really hardcore; it's a group of people with very specific ideological beliefs. Do those beliefs get into Wikipedia? I don't know. Do those beliefs get into the operation of Wikipedia? I think they do."
Central to Free Ride is the idea that you can't have a market without enforcing property rights. But how much of the entertainment industry's problems are down to risk-free downloading of free stuff, and how much is down to, say Tesco, and unbundling?
"Well, there's enough blame to go round! Every media company has made mistakes. On the other hand, they're dealing with a very difficult problem, so I don't think making a mistake means you're incredibly stupid. You're dealing with something that only happens every few lifetimes."
The only thing digital rights groups don't say "no" to is "asking nicely" aka begging. So the argument to us is: "Give up the law, and adopt something that doesn't work, please guys!"
"Exactly. People are being asked to give up rights they've won over hundreds of years, based on the success of ... an online encyclopaedia.
"That seems weird." ®