Sky has lots in Store for Anytime+
Think outside the Box Office
---
Sky has veered away from the Box Office setup, integrating it into a new Sky Store within the company's video on-demand service, Anytime+.
The number of titles available has increased with Anytime+ customers now able to choose from over 1000 pay-per-view movies, from new blockbusters to 99p classics.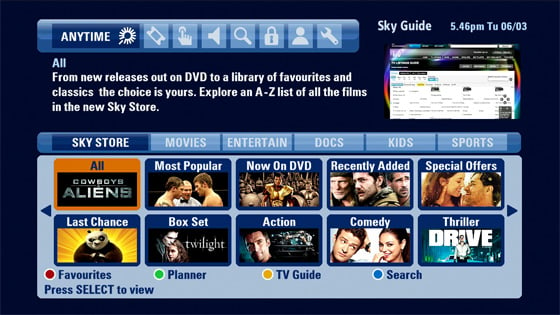 Those with a Sky Movies subscription, available from £4 a week, will still have unlimited access to around 600 movies on-demand and the 11 linear channels on the box. They can also use the service through Sky Go, the company's app for PC, Mac, laptops, smartphones and iPads.
The merger is not quite the end of Box Office completely, though. Customers without a box compatible with the Anytime+ service will still have access to it, with a more limited range of content than the Sky Store, starting from £3.49 a title. ®