Big Blue trots out Xeon E5-2600 server lineup
One tower, two racks, one blade ... and this other thing
IBM announced a passel of shiny new x86 iron this week, all built around Intel's two-socket Xeon E5-2600 chip, which formally debuted on Tuesday – although select customers such as Big Blue have been fiddling with that server chip for months.
IBM generates a lot of its revenues and profits in hardware and software from mainframe and Power servers, but its x86-based System x rack and tower and BladeCenter blade server businesses can, in any given quarter, generate as much revenues as those mainframe and Power boxes individually.
IBM's System x boxes are often sold into the same accounts, as well, so Big Blue has to hustle and get various tower, rack, and blade servers out there when Intel does a chip announcement to keep the x86 competition out of its accounts – and with this week's announcements, it has.
The integrated PCI-Express 3.0 controllers on Intel's new "Jaketown" Xeon E5-2600 processor now allow server makers such as IBM to get the first PCI-Express 3.0 servers in their lines out the door. Some of IBM's Power7-based servers are still using PCI-Express 1.0 slots, and only last October others got PCI-Express 2.0 slots for the first time.
For many database clustering and supercomputing jobs where high-speed and high-bandwidth networking are key, the addition of PCI-Express 3.0 peripheral slots is as important as the addition of two more cores – up to eight in the Xeon E5-2600 line, a boost from the six in the Xeon 5600s – and the doubling of main memory capacity to 768GB.
This extra I/O bandwidth may or may not be important to customers using IBM's tower servers, which get tucked under desks and put in closets in remote office locations among its large enterprise customers as well as being sold into SMB shops by Big Blue's myriad channel partners. But the new System x3500 M4 tower server announced this week will no doubt be appealing to many SMB shops and enterprise customers because it has three times the disk capacity as the System x3500 M3 server it replaces in the IBM lineup.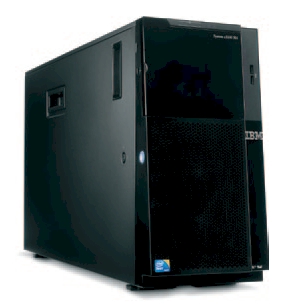 Tower of power: System x3500 M4
The System x3500 M4 can support all sixteen models of the Xeon E5-2600s although not all of those parts are standard. At the moment, using registered DDR3 memory sticks, the main memory on this two-socket box tops out at 384GB using 16GB memory sticks in the box's dozen memory slots per socket. Later this year, IBM will support load-reduced LR-DIMM DDR3 main memory, which will allow for the three memory slots per channel on the Xeon E5 socket to be loaded up with 32GB sticks.
The machine has an optical drive bay, an empty 5.25-inch media bay, and four storage bays that can house a total of 32 2.5-inch drives. One larger bay that holds eight 3.5-inch disks or flash drives is also available, and the system has ServerRAID M5110 and M1115 disk controllers on the motherboard with RAID 0, 1, and 10 support – if you want to add RAID 5 to this controller, you have to pay for an optional daughter card. IBM is also offering a 6Gb/sec SAS controller, since the SAS controller on the Intel "Patsburg" C600 chipset tops out at 3Gb/sec speeds.
With 900GB SAS disks, you top out at 28.8TB with 2.5-inch drives. If you can get by with SATA, you can slide in 32 of the 1TB SATA disks and push it up to 32TB, and if you want 3.5-inch disks, you can put up to eight 3TB units into the chassis.
The x3500 M4 has eight PCI-Express 3.0 slots: five x8 and three x16, and you need to have the second processor in the system to make use of the second and third x16 slots.
IBM has chosen Intel silicon to put four Gigabit Ethernet ports on the mobo. There is a wide variety of Broadcom, Emulex, Intel, and QLogic networking adapters that support Gigabit and 10 Gigabit Ethernet speeds, as well as QLogic, Brocade, and Emulex Fibre Channel adapters for storage.
The System x3500 M4 can be tipped on its side and slipped into a 5U rack-mount chassis if you want a fat racker with lots of disk drives.
In its base configuration, the System x3500 M4 with a single four-core Xeon E5-2609 (2.4GHz), 4GB of memory, and no disk costs $1,665.