The iPad 3 will prevent Apple's share of the tablet market from eroding as quickly as once thought, market watcher IHS iSuppli has admitted.
Back in February 2011, iSuppli forecast that Apple's share of the tablet business would fall below 50 per cent in 2013. A year on, and it reckons that point won't be reach until 2015.
"With the arrival Windows 8 on ARM microprocessors postponed to 2013, and most of the Android competitors now regrouping, IHS has lowered the media tablet forecast for Apple competitors in 2012," said iSuppli tablet specialist Rhoda Alexander.
"This means Apple will continue to capture the majority of the market well into 2014."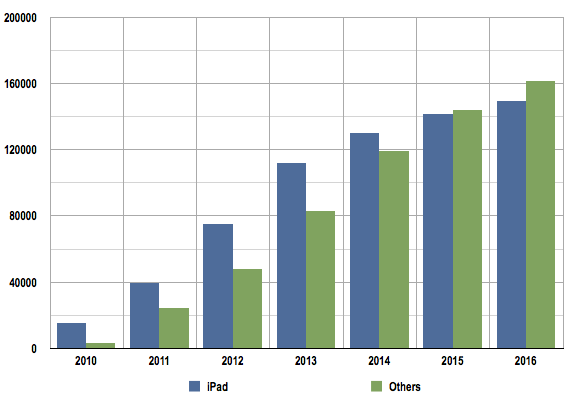 Data source: IHS iSuppli
It's not just the iPad 3 that will help Apple do so. Keeping the iPad 2 on the books and cutting its price a little will help Apple reach out to punters put off by its relatively high prices, iSuppli said.
Releasing a smaller model - the rumoured 7.85in 'iPad Mini', say - will help too, we'd add.
Thanks to its low price, Amazon's 7in Kindle Fire led to a collapse in Android tablet pricing during H2 2011. The average street price for Android tablets fell 41 per cent during that time, iSuppli said.
iSuppli noted that it now believes 124m tablets will ship this year, up 90 per cent on 2011's total, 65m units. It predicted shipments will rise to 285m in 2015 - when just under half of that amount will be iPads - and 311m in 2016. ®