LYING iPhone 4S mobes claim 4G connection on 3G network
iOS 5.1 update stumps AT&T customers
---
Updated Apple's iOS 5.1 upgrade has left iPhone 4S-owning Americans baffled after their shiny smartphones claimed to have 4G connections, er, when they don't.
Here in Blighty, we know we're not going to get 4G internet on our new iPads, or anything else for that matter until at least a few years.
But iPhone 4S owners on the AT&T network who updated their handsets to the new operating system yesterday found that their rebooted phone was connected to a "4G" network, instead of the 3G network connection they had signed up to and were paying for: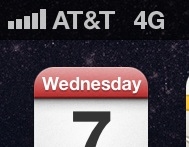 Of course, the phones are still on a 3G network. Talking 4G requires a particular chipset, one that the iPhone 4S does not have.
El Reg mobile expert Bill Ray points out that there is no legal definition of what constitutes 2G, 3G or 4G - something that some networks have taken advantage of. Both T-Mobile and AT&T have rebranded their HSPA+ networks, based on 3G technology, as a 4G network. The networks argued that HSPA+ speeds can approach that of 4G so could be defined as 4G.
LTE - a true 4G technology - is marketed as 4G LTE. That's what the new iPad has.
A spokesman for AT&T was not available to comment at time of publication. ®
Updated to add
AT&T spinner Mark Siegel has got in touch to say: "The iPhone 4S operates on AT&T's 4G HSPA+ network and as such, it is only appropriate that people see '4G' on the phone when they are connected to HSPA+."