A new research report will make worrying reading for Google and social media companies, as it shows that most consumers don't want their online activity used to personalize search results or advertising.
The study of 2,253 adults, conducted by the Pew Internet & American Life, found that 73 per cent of search-engine users didn't want their search results to be tailored to them based on past searches. Use of internet habits in producing search results was disliked least by respondents under 29, as well as those from ethnic minorities and those earning less than $30,000 a year.
Over two-thirds of respondents didn't want web sites to do targeted advertising that uses their internet history, and just over half said they had noticed targeted advertising that was clearly using such data. Men are better at spotting such ads than women, and the survey showed the more educated and well-paid you were, the more likely you are to see them.
Consumers are pretty clueless about what happens to their browsing history. Only 38 per cent said they were aware of how much data was being collected about them. Web-history deletion was the most common privacy tactic among this group, followed by using the privacy settings on websites and locking down their own browsers.
The results come as Google has shifted its users onto new privacy terms that will increase the amount of information the search giant will collect and use. Meanwhile, Facebook and other social-media companies are making targeted advertising one of the key planks of their business plans - but consumers don't want to play along, it seems.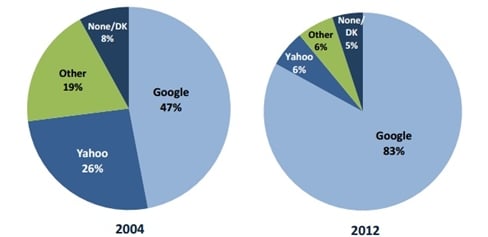 Google's annihilation of its competition accelerates
The survey had some good news for denizens of the Chocolate Factory, and some very bad news for Yahoo! – and thus, by proxy, Redmond. In comparison with a similar survey in 2004, Google is killing the opposition, with 83 per cent of searches, while Yahoo! and others have all seen their user footprint shrivel.
Search itself is the second most popular activity online, the survey found. Email is still king, used by 92 per cent of people, but search is just a single percentage point behind, ahead of getting news or shopping. Social networking stands at 66 per cent, but is still growing fast.
Overall, people are happy with the accuracy of whichever search engine they choose. Nine out of ten search users were happy with their results, and 73 per cent felt the data they got was accurate. On any given day, 56 per cent of people use internet searching in 2012, compared to 30 per cent in 2004. ®