Scientists at the Vienna Institute of Technology have demonstrated a polymer and laser etching technique that promises to dramatically speed up the printing of tiny 3D objects.
The technique uses a fluid polymer developed at the university, which hardens when hit by a strong light source. A laser was used to create a series of models by directing the beam with a series of mirrors. Being able to direct the light quickly, combined with the fast-setting qualities of the polymer, enabled the team to set new speed records for this kind of nanoengineering.
"Until now, this technique used to be quite slow," said Professor Jürgen Stampfl from the Institute of Materials Science and Technology in a statement. "The printing speed used to be measured in millimeters per second – our device can do five meters in one second."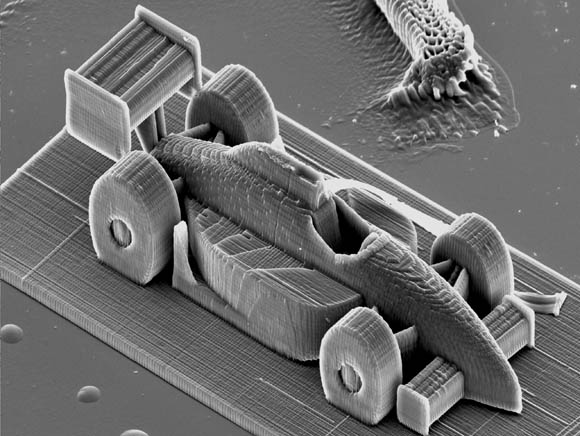 Now all we need is a miniature Lewis Hamilton (click to enlarge)
The polymer needs to absorb two photons of the laser beam at once, which is only possible at the center of the beam, in order to kick off the chemical processes involved. Because the hardened surface doesn't need to be prepared before the next layer is added, this adds to the speed of printing.
"The resin contains molecules, which are activated by the laser light. They induce a chain reaction in other components of the resin, so-called monomers, and turn them into a solid," said team member Jan Torgersen.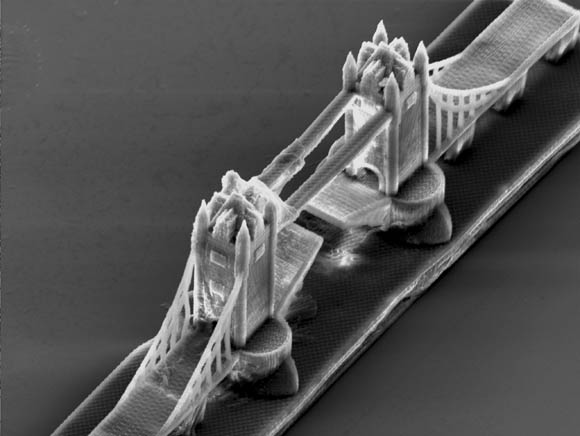 In this wee Tower Bridge, the towers are a mere 90µm apart (click to enlarge)
The team is now looking at practical applications for the process. Because of the increased speed, much larger objects (relatively speaking) can be built, and the team envisages using it to build individual tools and parts for nanoengineering, or printing minute frameworks of scaffolding around which biological cells can form around medical purposes. ®