What's the secret behind squeezing four times as many pixels into the same iPad screen area as Apple's display suppliers managed with the previous model and making it look better? A technology called "Super High Aperture", apparently.
SHA involves slapping a 3µm "photo-definable acrylic resin layer" on top of the display's thin-film transistors, says market watcher DisplaySearch.
This has the following effect: "to planarise the device and increase the vertical gap between the ITO pixel electrodes and signal lines".
Got that?
ITO is Indium Tin Oxide, a semiconductor that's transparent when laid down in very thin layers. It's used in ordinary LCDs too. The SHA film lifts the ITO layer up above the level of source, gate and drain parts of the transistor and their signal lines.
However, a narrow well is etched in the film down to the transistor's drain layer. This well, also coated with ITO, serves to reduce the impact of the electrical fields generated by the transistor's source and gate bus lines upon the pixel's liquid crystal orientation, which can muddy colours and blur the picture.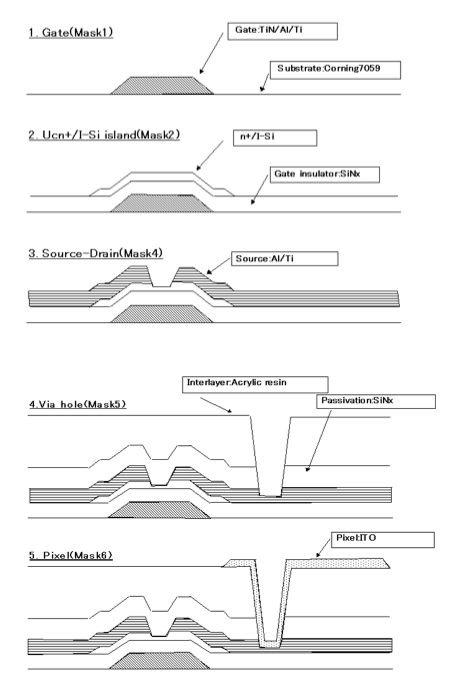 Sharp's SHA design
The structure also increases the pixel's aperture ratio by narrowing the pixel's diameter relative to its focal length.
The upshot: the pixel is brighter and finer, as a greater amount of light at a more precise frequency gets through than is the case with traditional LCD pixels.
DisplaySearch note that Sharp came up with the design years ago - it's been putting out papers on it since the mid-1990s - but it's a tricky design to implement efficiently and that has held the technology back, especially since the resolutions it makes possible were not then needed.
Now they are, and Sharp is milking the tech. DisplaySearch reckons that a quarter of the LCDs shipping today use the technology. ®