Radio Waives
That bandwidth will be free to use, as long as the devices check in with the database before transmitting. Device manufacturers will sign deals with database operators, so the cost of maintaining the data will be part of the purchase price of White Space kit. Database operators will compete with value-add offerings such add international information, fast look-up times and special features, such as incorporating data sourced from White Space devices themselves.
This is where White Space becomes really important to the future of all radio communications. When deployed devices stay contributing to a live feed of which frequencies are being used and where, then the model becomes applicable to other parts of the radio spectrum, perhaps even all of it.

Wi-Fi range in metres using 802.11g modulation
White Space slots are 8MHz wide in Europe - though only 6MHz in the US because that's how analogue TV was organised - so once a device has been provided with a list of locally-available slots it can start transmitting. But it might well find that another White Space device, or a freak of meteorology, means that some of the slots are already filled. So it will have to run some checks locally before launching into a network operation, and is the result of those checks which could be valuable to the database operator.
A device could, in theory, report back to the database with an even more accurate list of available bands, and the database could then supply that modified list to the next device which asks. In theory, a database could even supply different ranges of channels to different devices located near each other, to avoid interference happening before it could be detected.
Look up for access
If that all works - and it's still a big if - then the same model could easily be expanded into other areas of the radio spectrum. Candidates include the bands around 2.5GHz, which are used by radar systems, and FM radio bands right at the other end of the dial, either of which could be more-efficiently utilised though the application of 'where can I play?' look-up databases.
Once a White Space device has identified a usable band, and has established that it's not already occupied, then it can start transmitting. What it's going to transmit, and why, is still very much under discussion. UK-based Nuel has proposed a standard called Weightless which is ideally-suited for machine-to-machine communications.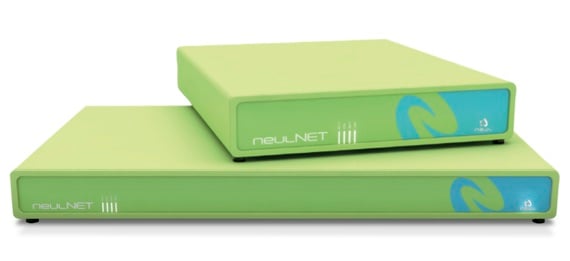 Neul's Weightless kit extends networking into white space bands
Meanwhile, the IEEE international standards body is working on a dedicated networking protocol. Huawei has been testing LTE in the band, while researchers at Microsoft have been slicing up Wi-Fi signals to see if they can be slotted into White Space gaps.
White Space is going to be huge, everywhere it's deployed, not only in providing users with fast wireless with a range measured in kilometres but it could also redefining how we look at licensing of radio spectrum. What is clear is that White Space is no replacement, or extension, to Wi-Fi, no matter what the companies involved decide to call it. ®
Similar topics