This article is more than 1 year old
TuneIn Radio Pro
Radio killed the video star
Android App of the Week I stumbled across TuneIn while reviewing the Archos 35 Home Connect - it's preinstalled as that device's main radio portal - and since that chance encounter it has ended up on all my Android devices.
TuneIn allegedly offers over 50,000 internet radio stations and 1.2m on-demand programmes. I'm not about to count them to see if that claim is true, but there's certainly a lot of stuff to listen to.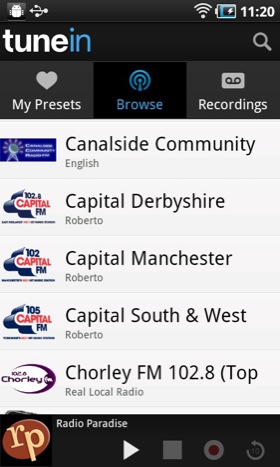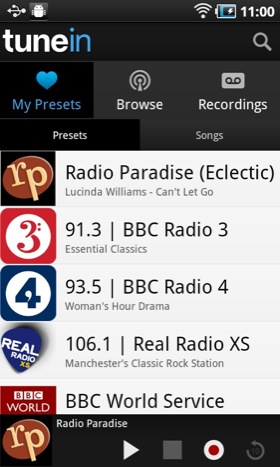 Seek out local stations (left) and save them as favourites (right)
To help separate the wood from the trees, the app divides content into music, news, sports and talk radio stations as well as offering you a selection from your geographic locale. You can also sort stations by the language of broadcast.
There is also a podcast section offering a selection subdivided by content type. There's a comprehensive search facility to help you find specific stations or content. Type in "film" and you will be presented a nice choice of film review podcasts, for instance.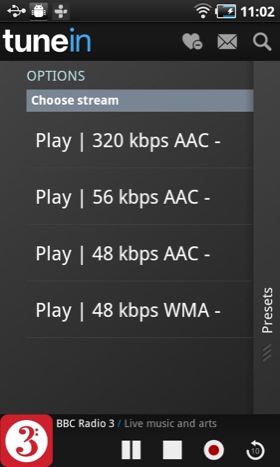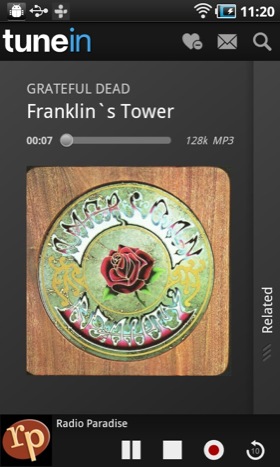 Pick your bit rates (left) then listen in (right)
Once you've launched a station, you can swipe the now playing screen to see other stations offering similar content, an options screen that lets you select from all the available stream formats and bit rates as well as a daily running order where such is available.
You can also set a sleep timer if you want to doze off while listening to a station or an alarm should you wish to wake up to the same, and there is a facility to report any problems with a specific stream. Keep on swiping and you end up back at your presets page.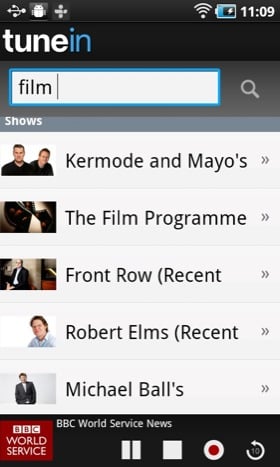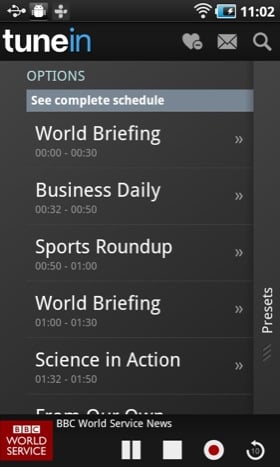 Search for podcasts (left) if there's nothing on a station's schedule (right) that appeals
Buttons at the top of the now playing page let you add stations, songs or podcasts to your favourites and share what you are listening to with your Facebook or Twitter accounts. If you have the AmazonMP3 app installed, a Buy button appears.
At the bottom of the page, you'll find a small red dot. Press this and whatever is being played will be recorded and stored on your device. Next to it is a little button that skips the stream back by ten seconds, handy if you miss something.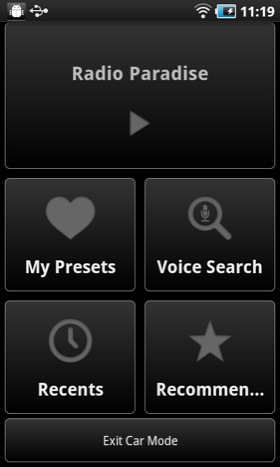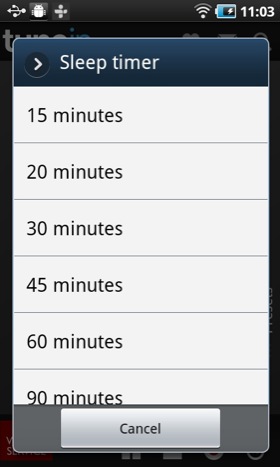 There's a special UI for in-car use (left) and a sleep timer for in-bed use (right)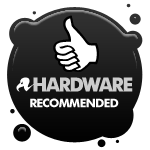 Create a TuneIn account and sign into the app and you can synchronise your favourites between all your devices be they Android, BlackBerry or iOS and the tunein.com web portal. There's also a large-buttoned car interface for use on the go.
Failings? There are more than a few broken links and the featured sports channels are very US-centric, though UK stations like Sky Sports News Radio can be found easily enough. ®
Size 4MB
Apps2SD No

We make our choice of the best Android smartphone and tablet downloads every Tuesday. If you think there's an app we should be considering, please let us know.
More Android App of the Week Winners

iOnRoad
Ten Android Games
AppAware
AirDroid
FilmOn

TuneIn Radio Pro
A simple but feature-laden internet radio and podcast aggregator and recorder.
Price:
£0.20 (special, short-term offer) RRP