This article is more than 1 year old
Panasonic CF-53 Toughbook 14in rugged laptop
A bit of a hard case
Review Skinny Ultrabooks may be getting all the press at the moment but what it you want a laptop that will withstand the knocks, drops and tribulations of use on the road and in the great outdoors rather than the board-room? Panasonic's semi-rugged CF-53 Toughbook may be just the ticket.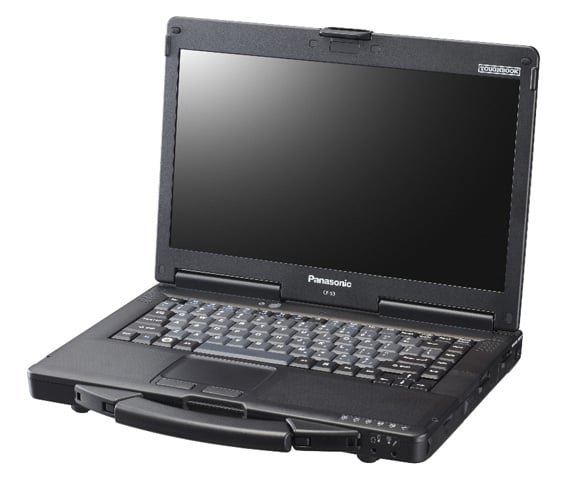 Ready for the rough and tumble: Panasonic's CF-53 Toughbook
Semi-rugged is the best way to describe the CF-53. It's water and dirt resistant rather than proof and is designed to withstand drops from around one metre, rather than down mine shafts. Similarly, it will work at temperatures between 60˚C and -20˚C, but set it on fire or put it in an oven at Gas Mark 7 and you are stuffed.
The Panasonic CF-53 Toughbook certainly feels a solid lump. Inside, is a magnesium alloy chassis and the lid is covered with brushed aluminium. Fold the lid down and a solid clasp keeps it shut, so you can take hold of the robust carry handle and swing it around your head while singing King of the Swingers with no fear of it opening.
Handling stress
The lid houses a 14in 1366 x 768 matt screen and it's one of the brightest I've ever seen on a laptop. This, combined with the anti-glare finish, means you can use the CF-53 Toughbook in just about any lighting condition you care to imagine. The rest of the body is made from very sturdy black plastic, which may not be all that pretty but should take some serious abuse before it starts to look scruffy, let alone fall apart.
The keyboard is as solid as a rock but it's not backlit and some of the keys – especially the space bar and return key – are a little on the small side. The multi-touch track pad and two distinct click-buttons work very well.

Water tight?
In keeping with it's semi-rugged credentials, spills of 175ml or less are shrugged off like water of a duck's back. By way of a test I poured half a glass of water onto the keyboard deck, turned it over to drain and carried on typing this review with no harm done.