Tech industry climbs out of Silicon Valley, moves abroad
Have open source, will travel
---
Open... and Shut Silicon Valley may well be the center of the technology universe, but it's no longer the locus for technology jobs.
That honour now goes to the Washington DC area, according to new research, followed by New York and with a range of other metro areas growing their tech presences at a torrid pace. In short, while Silicon Valley may be the place to define the future of technology, for those who just want to find a good technology job, it may be worth looking beyond the San Francisco Bay Area.
Based on new LinkedIn data, it's clear that the technology industry is having a field day in terms of net job growth, even as industries like pharmaceuticals and newspapers are getting hammered. But what is much less clear is just how much tech jobs are growing even within stumbling industries like telecoms, banking, retail, and more.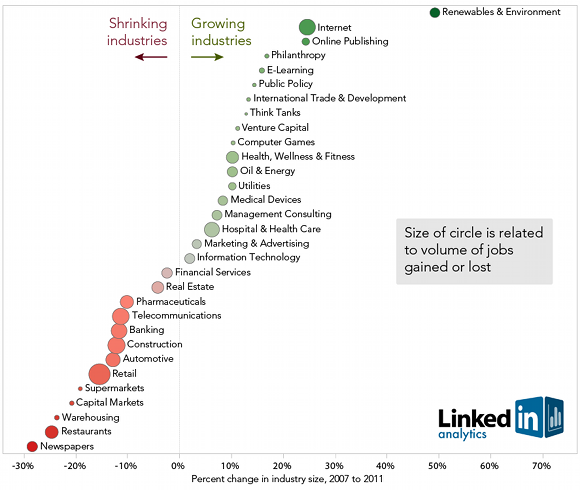 While the rate of growth for tech jobs varies by industry, there's growth across the board, according to Dice.com data. This growth isn't being driven by start-ups, either. It's being fostered by old-school and new-school enterprises alike, at various stages of company growth. As MapMyFitness vice president Matt McClure persuasively argues, the notion that "only start-ups create jobs" is silly and relies on fuzzy math, and even fuzzier thinking.
Most of these companies hiring tech professionals aren't even classified as "tech" companies. The likes of Google, Facebook and Microsoft can only hire so many people. But as industries as varied as news media and banking reinvent themselves, they're seeking tech professionals to give them a leg up, and to both understand and invent the future.
For example, Raleigh, North Carolina, is listed as one of Dice.com's fastest-growing cities for tech jobs, with a 50 per cent growth rate since March 2011. Raleigh is, of course, home of Red Hat, the Linux leader, but at just 3,760 employees globally as of February 2011 – and roughly 700 in Raleigh – Red Hat isn't the company that's hiring everyone in the area. In fact, the primary industries for Raleigh-Durham are government, education and healthcare.
Or take Richmond, Virginia, then second-fastest growing city in the US in terms of technology jobs. Over half of its jobs are in Government and Services. Yes, Richmond has seen an increase in IT and semiconductor manufacturing jobs, but the primary tech growth is in non-tech industries.
Because, as it turns out, every industry is increasingly fuelled by tech.
Yes, if you're an engineer the demand for your skills may be fiercest in Silicon Valley or New York City. But the tech job boom is actually happening at a faster pace outside these two areas, providing plenty of jobs for those who don't want to relocate.
As open-source luminary Eric Raymond once pointed out, the vast majority of the world's software is written for use, not for sale. By extension, most of the world's technology jobs are going to be filled in places not normally thought of as tech centres, because every company, whether it's a clothing manufacturer or an insurance brokerage, is increasingly driven by technology.
The one constant in all this tech hiring, however, may well be open source. Whether you're building technology for use or sale, open source provides much of the raw materials, as a variety of studies detail. So stay home, contribute to your favorite open-source project, and take part in the geography-agnostic tech jobs boom. ®
Matt Asay is senior vice president of business development at Nodeable, offering systems management for managing and analysing cloud-based data. He was formerly SVP of biz dev at HTML5 start-up Strobe and chief operating officer of Ubuntu commercial operation Canonical. With more than a decade spent in open source, Asay served as Alfresco's general manager for the Americas and vice president of business development, and he helped put Novell on its open source track. Asay is an emeritus board member of the Open Source Initiative (OSI). His column, Open...and Shut, appears three times a week on The Register.