A software engineer who has bounced between Microsoft and Google over the past few years is very disappointed indeed with his one-time boss Larry Page.
James Whittaker took to his blog to moan about the current state of play over at the Chocolate Factory and complained that Google is killing its business by obsessing over its rivalry with Facebook.
The developer bod joined the search giant in 2009, after quitting Microsoft. And he had nothing but praise to heap on his employer under the leadership of then CEO Eric Schmidt.
"No one had to ask me twice to promote Google and no one was more surprised than me when I could no longer do so. In fact, my last three months working for Google was a whirlwind of desperation, trying in vain to get my passion back," he lamented.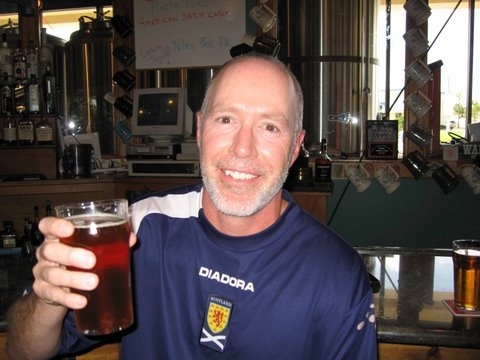 James Whittaker can no longer raise a glass to Google
"The Google I was passionate about was a technology company that empowered its employees to innovate. The Google I left was an advertising company with a single corporate-mandated focus."
Whittaker said that "technically" Google had always been an ad company, but compared that huge revenue slurp from the commercial world with that of a TV show, which carries popular material to lure advertisers.
He continued: "The fact that all this was paid for by a cash machine stuffed full of advertising loot was lost on most of us.
"Maybe the engineers who actually worked on ads felt it, but the rest of us were convinced that Google was a technology company first and foremost; a company that hired smart people and placed a big bet on their ability to innovate."
Under Page, who returned to the helm of Mountain View nearly a year ago, all that changed, Whittaker said, discussing his take on the Google co-founder's "social" strategy.
Google has repeatedly failed at building a social network to compete with Facebook. Some insist that Google+ is the answer to that how-to-get-845-million-people problem.
Whittaker brilliantly nails what appears to be, for Google at least, a pervasive rejection of its attempts to turn its business into a mighty, all-conquering and very sticky online property.
"Google could still put ads in front of more people than Facebook, but Facebook knows so much more about those people. Advertisers and publishers cherish this kind of personal information, so much so that they are willing to put the Facebook brand before their own," he wrote.
"Exhibit A: www.facebook.com/nike, a company with the power and clout of Nike putting their own brand after Facebook's? No company has ever done that for Google and Google took it personally."
Whittaker, of course, has now returned to the Microsoft fold, so arguably he may simply have joined Redmond's breathless campaign to bitch about Google. But his blog post makes some salient points, already expressed elsewhere, about Page's plans for the world's biggest search engine biz. ®
Similar topics