Waking Mars
Cerebral sci-fi gaming
Red-planet rover
Just as on Earth, the Lethe Cavern's ecosystems comprise complex interdependencies. Each Zoa has its own soil PH requirements, dietary needs and vulnerabilities. And each contributes to the ecosystem in its individual way: some are herbivores, others carnivores; some reproduce asexually, others require pollination; some release a breathable mix of nitrogen and oxygen when watered, others release spores that nourish the soil.
So the flip-side of simple yet enjoyable Jetpack-style fetch-and-drop gameplay is a xenological puzzler or sorts.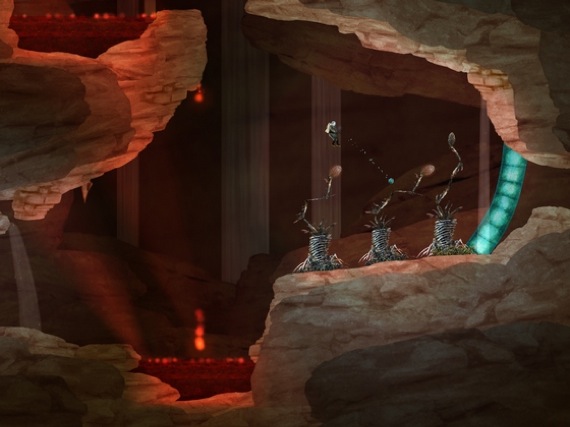 Biomass effect three
But it's not one that ever truly taxes. If you're hoping for a stern challenge, Waking Mars is probably not for you. True, the ecosystems become more complex the deeper you venture, but the game always provides enough resources to ensure you reach required biomasses without straining the grey stuff.
And, despite contending with the odd falling stalactite, dip into an acid pool or bite from a carnivorous Zoa, you really have to go out of your way to kill yourself, so ample is the game's health bar.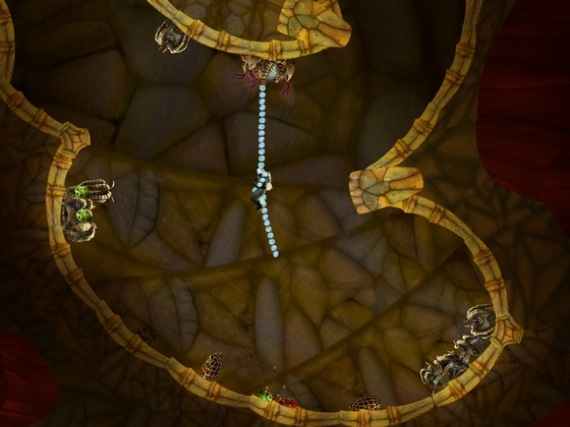 The angle of the dangle...
Verdict
A limited puzzler and platformer, then. But it really doesn't matter. Waking Mars' mix of cave exploration and alien biology is never anything less than beguiling. The graphics and musical score are hauntingly beautiful, as is the narrative, whose simple delivery in text and static pictures belies its emotive power.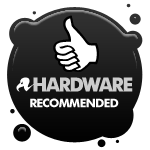 Developer Tiger Style's real achievement here is not in crafting compelling mechanics or gameplay, but in delivering an ambience every bit as evocative and memorable as those classic, alternative sci-fi films.
There's no hyperspace, disruptor or proton torpedo in sight, but compared with most iOS games, Waking Mars is still out of this world. ®
iGamer covers the latest in mobile gaming on Android and iOS. If you think there's a great game we really should cover, please let us know.
More iGamer

Beat Sneak Bandit
Ten top
Android games
Infinity
Blade II
OnLive
The Dark
Meadow

Waking Mars
A 1970s sci-fi film homage that's a puzzler for the brain and a treat for the eyes and ears.