NASA has ordered a baseline study for all of its future astronauts after research showed that exposure to zero gravity can cause eyesight distortion.
Scientists at the University of Texas Medical School used magnetic resonance imaging scans to look at the eyeballs and optic nerves of astronauts who'd spent an average of 108 days in orbit. In a third of cases, the optic nerve showed signs of compression from the vitreous fluid that surrounds it, decreasing blood supply and possibly causing permanent damage over time.
In addition, 22 per cent of those studied showed a flattening of the rear of the eyeball which, while useful for rectifying some imperfect vision, was damaging to those with normal eyesight. Over one in ten of those studied was found to have changes in the connection between the pituitary gland and the brain. The full research has been published in the journal Radiology.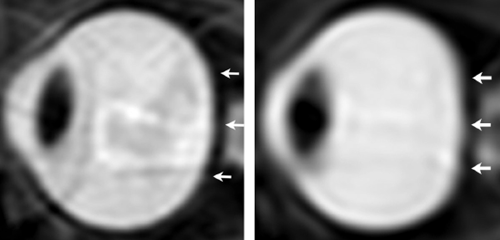 Orbital trips can compress your eyeballs
"This work has certainly has raised the level of concern at NASA," team member Larry Kramer, professor of diagnostic and interventional imaging, told The Register. "As a result of the study, before publication, we've had several meetings with NASA and now every astronaut is going to be checked."
He explained that the agency was determined to do a proper study to check this out. Astronauts will be scanned to establish baseline data, again just before launch, and then immediately on their return. There are also plans to get ultrasound equipment into orbit to perform in situ testing in the International Space Station.
"NASA has placed this problem high on its list of human risks, has initiated a comprehensive program to study its mechanisms and implications, and will continue to closely monitor the situation," Dr William Tarver, chief of flight medicine clinic at NASA/Johnson Space Center said in an emailed statement
The agency may have reason to be concerned. Because of the cost of sending humans out of the gravity well it makes sense to stretch mission times as long as possible, and a trip to another planet or asteroid could take over a year to get there and back. If these effects on the eyes are cumulative over time the crew may need an optician as a mission specialist, if a technical fix can't be found.
"Some of the astronauts were still seeing symptoms up to a year after landing," explained Dr Kramer. "Even so, they are keen to go up again every chance they get." ®
Similar topics