World TV shipments slipped last year - for the first time since 2004, said market watcher NPD DisplaySearch - presenting a picture of a business that's stalling.
The number of sets shipped during the year totalled some 247.7m units. That represents an overall decline of just a third of a percentage point on 2010's total - only 740,000-odd sets, in other words.
While the decline of CRT continued - down 34 per cent year on year - and shipments of sets based on niche flat-panel technologies, including plasma, OLED and reverse-projection, also slipped, LCD shipments continued to grow: up seven per cent to just over 205m units. However, past years have seen double-digit LCD growth.
TV Vendor Market Shares in Q4 2011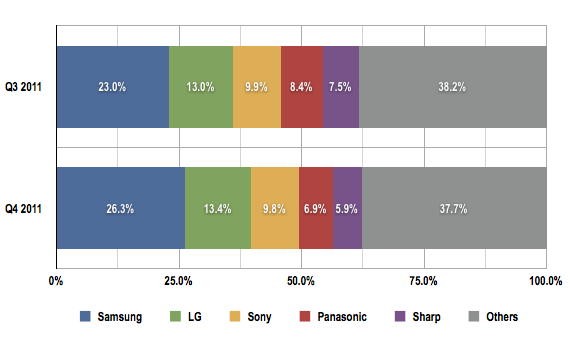 Data source: NPD DisplaySearch
Focusing on Q4, LCD shipments were up just one percentage point, year on year, while overall TV shipments were down four per cent, DisplaySearch said, to 74.2m units.
All screen types but CRT showed big quarter-on-quarter growth - OLED in particular, leaping 470 per cent - but that's to be expected since the run-up to Christmas is traditionally a good time for TV sales and the summer months are not.
That may change in 2012, as the Olympics and Euro 2012 tournaments spur sales of bigger sets.
TV shipments in the developed regions - North America, Japan and Western Europe - declined 21 per cent year on year in Q4 2011, compared to a 12 per cent increase in other markets.
Samsung was Q4's best-selling brand globally, taking just over a quarter (26.3 per cent) of the TV market. It was followed by LG (13.4 per cent), Sony (9.8 per cent), Panasonic (6.9 per cent) and Sharp (5.9 per cent).
Only the first two showed year-on-year growth, and only two per cent in LG's case. Sony, Panasonic and Sharp experienced double-digit declines. Samsung was up 18 per cent. ®
Similar topics