The Sunday Times' use of a Call of Duty character to illustrate an article about a real-life military operation has left bloggers up in arms. Some claim the use of such an image is not ethically right.
Alongside an article this past Sunday about the failed rescue mission in Nigeria, the Sunday Times published an image of John 'Soap' MacTavish, a leading character in Activision's CoD series.
While the paper covered his eyes, as if to protect the special forces' operative's identity, the image is quite obviously a game graphic.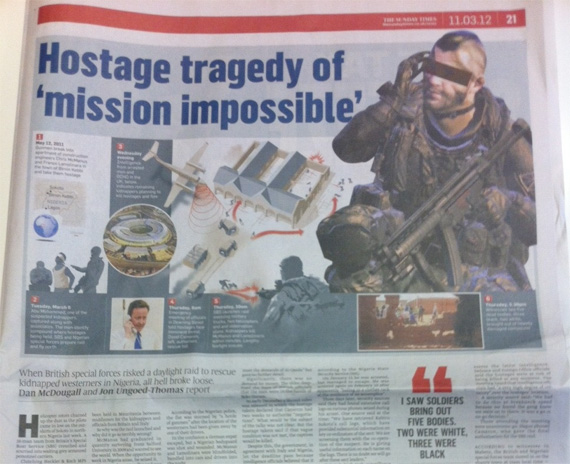 Source: The Media Blog
After last year's outcry when ITV presented game footage as an actual IRA video, the use of virtual clips, or in this case artwork, is a sour point.
We think people are overreacting. Unlike ITV, the Sunday Times doesn't pretend the image is a real-life soldier taking part in the failed rescue, no more so than than any of the other graphics on the page are. Nor is the Soap shot used to support any historical claims.
What do you think? Are video graphics fair game for use in such illustrations? Comment below, folks. ®