Product round-up FireWire interfacing has been around since the mid-1990s and, as far as Apple is concerned, looks set to be ousted by its new Thunderbolt technology in due course. However, it still features on most new Macs, is available for PCs and remains popular in desktop audio and video environments. It's also a convenient option for shifting data around with legacy kit too. Indeed, FireWire's sustained data rates are better than USB 2.0 making it ideal for backups and file transfers.
All of the drives covered in this roundup support FireWire 800 which, with a suitable cable will work seamlessly with FireWire 400. With the exception of Seagate's GoFlex, they all feature USB 2.0, and some even have USB 3.0. And if you were in any doubt about the variety of FireWire drives on offer we've a mix of portable and desktop drives with capacities on test ranging from 500GB to 6TB.
Thankfully, not one of the ten drives on this list suffers from excessive noise or vibration, even the big 6TB units. However, the desktop drives do have external PSUs, which can get a bit toasty. To deliver a level playing field with other drives tested previously on Reg Hardware, CrystalDiskMark 3 was used for benchmarking. A Core i7 MacBook Pro configured with Boot Camp and Windows 7 did the honours for testing on both Apple and MS operating systems.
Freecom Quattro

First on the list is Freecom's ingeniously named Hard Drive Quattro 3.0 which features not only dual FireWire 800, but eSata and USB 3.0 ports as well. Oh and for good measure there's a FireWire 400 port so you can daisy chain legacy devices or connect up to an older Mac without the need for a special cable.
Freecom's obvious effort to imitate the now ubiquitous Apple brushed aluminium styling looks quite impressive. Yet when it comes down to performance, this is clearly a form-over-function design. In tests the 1TB model achieves a good 81MB/s read, but only 57MB/s write.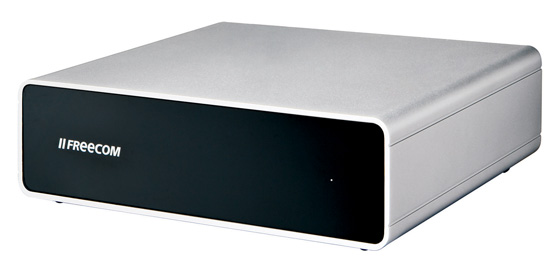 Reg Rating 75%
Price £199 (1TB), £240 (2TB), £450 (3TB)
More info Freecom
G-Tech G-Drive

G-Tech's G-Drive is certainly eye-catching but this did make me wonder if it had the performance to match its looks. One thing is for certain, you'll not run short of interfacing options. Featuring FireWire 800, eSata and USB 2.0 with all the neccessary cabling – including a FW800 to FW400 lead – the G-Drive is suitable for just about all applications.
Like the Freecom Quattro, this 3TB model can write at around 60MB/s and but it can only muster 72MB/s when reading, not the fastest by far, but still quite reasonable. Of more concern with the G-Drive is its physical size. At 235mm long, it's about the length of my forearm and you may be hard pressed to accommodate it if your desk is little more than a cubicle. All-in-all, its combination of satisfactory performance and the lowest price tag for a 2TB drive makes the G-Drive an attractive prospect.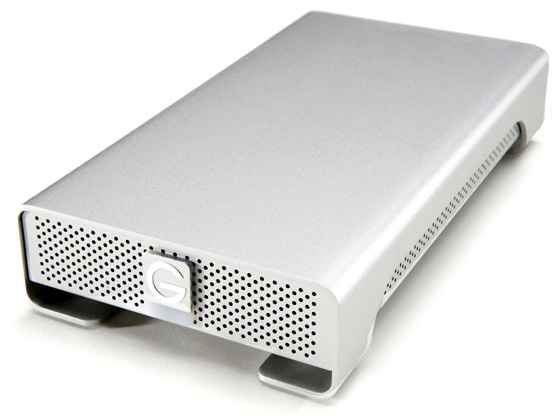 Reg Rating 80%
Price £150 (1TB), £180 (2TB), £260 (3TB)
More info G-Tech