This article is more than 1 year old
Tesco blunder prices 64GB 4G iPad at 50 quid
Buyers' orders spiked
Tesco tantalised online shoppers yesterday after a pricing error left punters thinking they'd snapped up Apple's latest iPad for just £50.
The Twitterscape was alight last night with braggers who thought they'd got the bargain of the century. The Tesco Direct website was offering advance orders for the new Apple iPad Wi-Fi 4G 64GB model at £49.99.
The slate should set you back £659.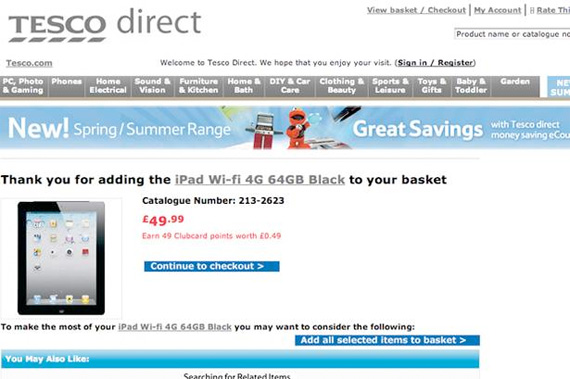 The news spread like wildfire and with so many shoppers flooding the website, it even crashed at one point. Tesco soon spotted its error, though, correcting the price and suspending transactions.
"We always look to offer our customers unbeatable value but unfortunately this is an IT error that is now being corrected," a company spokesman told us.
Disappointed punters will now have to cough up the full price if they still want the dozens of tablets they ordered.
As for Tesco, there's no such thing as bad publicity, we suppose. Every little mistake helps. ®