iOS App of the Week Annoyingly for us iOS fans, Photoshop Touch actually made its debut on Android, late last year. You can download it from Google Play. However, it has now arrived on the iPad 2 and the 'new iPad' – but not the first-generation iPad or any other iOS device – just in time to bump pixels with Apple's own iPhoto.
They're not really direct competitors. iPhoto is very much aimed at ordinary photo hobbyists, whereas Photoshop Touch is clearly intended as a mobile companion for professional users of the full version of Photoshop.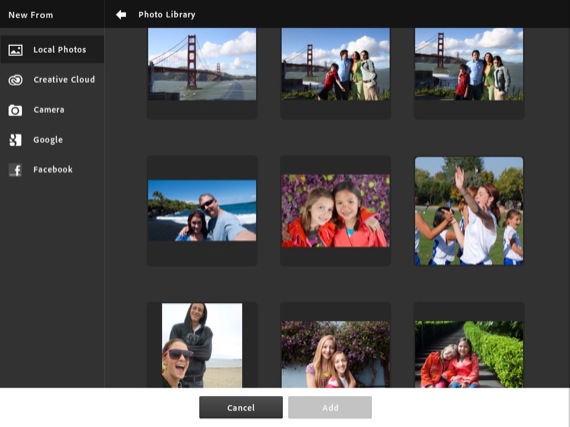 There are a fair few import options
You start by importing a photo straight from your camera, iPad camera roll, Adobe's Creative Cloud service, or a Google search, and then entering the main editing workspace.
The app's interface will look immediately familiar to existing users of Photoshop, with the main toolbar sitting on the left-hand side of the screen, the layers palette on the right, and a number of pull-down menus running across the top of the screen.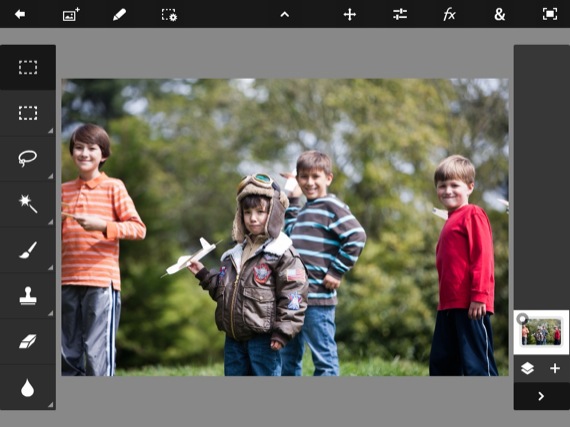 The UI will be familiar to Photoshop users
I don't have any complaints about the app's range of features – there's a strong set of selection tools, layers, graduated fills, and crop, clone and text tools, as well as a modest selection of filter effects. Individually, these tools all work well, but I did feel that the interface occasionally stumbles as it attempts to adjust to life on the small screen of a tablet.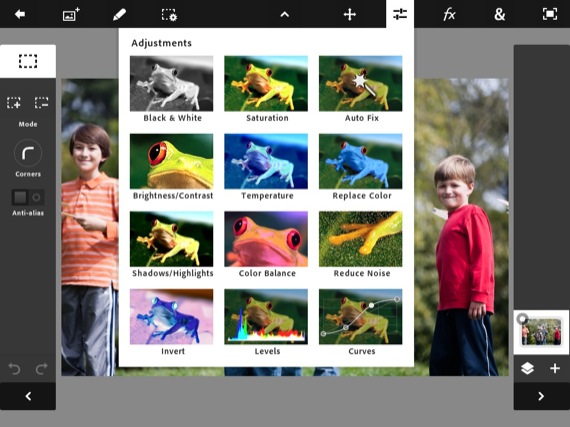 The small screen quickly gets cluttered
Some of the pull-down menus completely obscure the image you're working on, and the moment you use two fingers to zoom in on a photo, you realise that there's no 'hand' tool that will let you drag the image around on screen. To do this you have to select a menu command that switches the app into another workspace mode that hides most of the other tools.
Having used Photoshop since the original version 1.0, I found this a brain-wrenching break with years of continuity.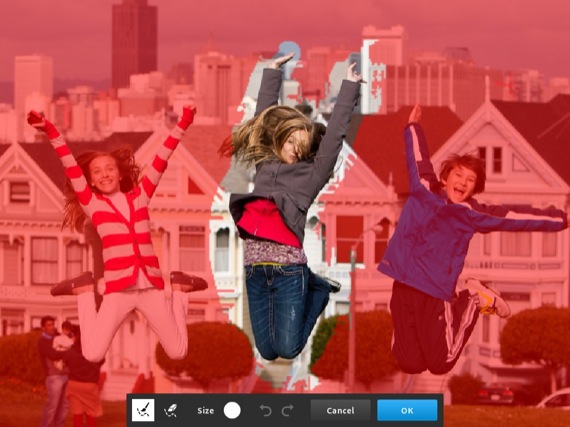 You paint selections rather than draw them
Another headscratching decision – possibly due to the iPad's limited memory – is the fact that Photoshop Touch limits the image resolution to a maximum of 1600 x 1600. You can import larger images, but they get scaled down to that within the app.
It's a pretty modest resolution, especially for professionals, and might well mean that the app just gets used for doing quick visualisations and mock-ups before doing the real work on one of those old-fashioned computer thingies.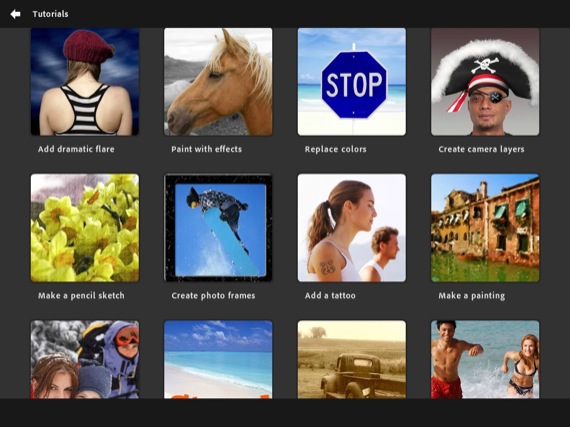 The app includes a host of tutorials
Still, £7 isn't bad for a fast and versatile visualisation tool, and many designers and photographers will appreciate the ability to put their feet up while they experiment with ideas on their iPad. Just don't expect to ditch your computer and Photoshop CS5 just yet, though. ®
We make our selection of the best iPhone, iPod and iPad downloads every Thursday. It you think there's an app we should be considering, please let us know.
More iOS App of the Week Winners

Poynt
Ten iOS Games
Grid Lens
Red Cross
First Aid
CNN

Adobe Photoshop Touch
A useful companion for the desktop version of Photoshop, but the 1600x1600 resolution limit hinders its usefulness as a standalone image editor.
Similar topics