Hong Kong Apple store repels fanbois, scalpers
Form an orderly queue ...
---
Signs have started springing up around Apple's flagship store in Hong Kong telling people not to bother queuing for the shiny new fondleslab when it launches on Friday, in an apparent attempt to stop ill-informed fanbois and mainland scalpers from crowding the streets around the building.
Apple has yet to confirm or deny to The Reg whether it was responsible for putting up the signs which read:
No staying and queuing up here. Apple will not serve on a first come first serve basis for new ipad. Please refer to Apple's official website for the detailed arrangement.
However, given the slightly odd grammar and absence of fruity branding, it seems more likely that the signs were put up by the police or local authorities.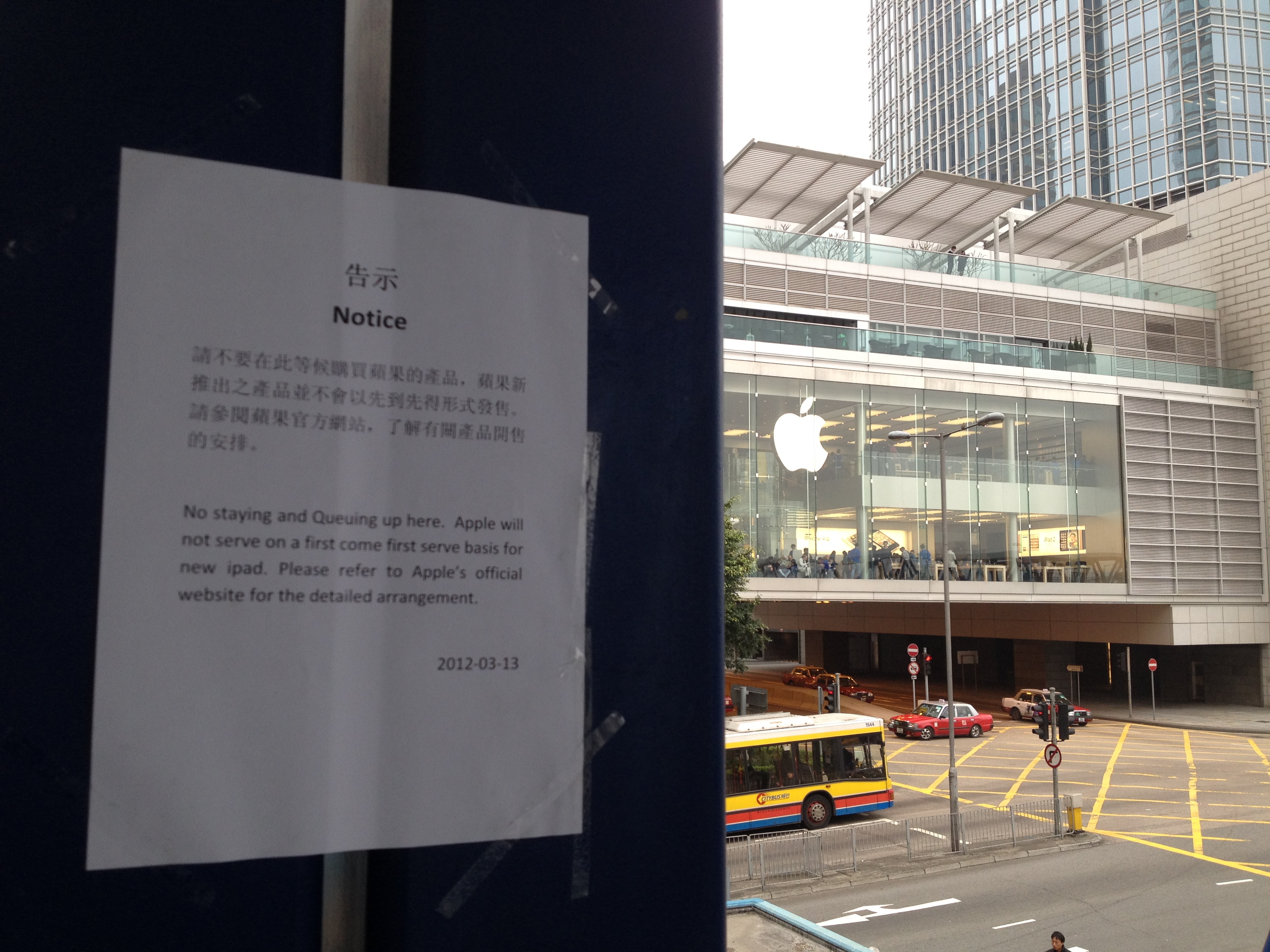 When The Reg popped down on Wednesday evening a queue of 100 or so iPad seekers had already formed, inexplicably not directly outside the store but across a footbridge a few hundred yards away.
They will be queuing in vain though as Apple has already instituted the same Reserve and Pick Up system it used for the iPhone 4S, which means no walk-in purchases.
Instead, customers must input their name, address and government ID number on the Apple web site to enter a kind of iPad lottery, whereby if the Apple gods are smiling on them they will be sent an email telling them what time the following day they can collect their brand new fondleslab.
It was brought in seemingly in a bid to prevent so-called scalpers coming from mainland China, where Apple toys are in short supply, buying up plenty of devices and then selling them on at a profit back in the People's Republic.
The dishevelled men and women queuing outside the Apple Store on Wednesday evening certainly didn't look like the kind of trouble-making scalpers who were accused of ruining the big iPhone 4S launch in Beijing in January.
However they're certainly persistent, according to an exasperated police officer who told The Reg they'd already been told to move on, but to no avail.
If they were black marketeers, Apple didn't seem to be discouraging them much either, with one store official even coming out while we were there to show off the shiny new fondleslab to the assembled masses.
It remains to be seen whether on Friday morning we'll see the group spring into action and assault iPad customers coming out of the store with offers to buy their new toy for inflated sums of cash.
According to a Chicago Tribune story on Wednesday, the black market in iPhones has actually significantly diminished in China now that the device is relatively easy to get hold of.
However, with Apple still not confirming a release date for the new iPad in the country as yet, it's pretty certain that scalpers will be sniffing around in Hong Kong and Macau for some time to come. ®