Microsoft slashes Office 365 prices
Big cuts for new, renewing customers. Why? 'Efficiencies'
---
Microsoft has taken an axe to Office 365 prices, cutting enterprise charges and giving special discounts to educational users, claiming "economies of scale" in the service.
"With these efficiencies, we're able pass on savings to make it even more affordable for customers of all sizes to move to Office 365," claimed Kirk Koenigsbauer, VP of Microsoft's Office division in a blog post. "So, I'm thrilled to announce that we're lowering the prices of most of our Office 365 for enterprise plans by up to 20 per cent. These changes are effective today at Office365.com for new and renewing direct customers. "
The economies of scale that Koenigsbauer is claiming must be very big, indeed. According to a table posted by Microsoft partner Collabra Networks (which has since been taken down), some prices have dropped by nearly 25 per cent, and storage costs are down 92 per cent.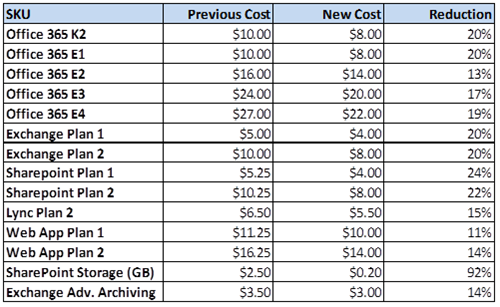 Collabra Networks price chart for Office 365 shows major price cuts
When El Reg asked about these cuts, a Microsoft spokesman told us that the economies of scale were on the datacenter side, and that "The talents of our privacy experts, security gurus, and administrators are more highly leveraged across the service." This may well be so, but we'd bet the price cuts are also an attempt to ramp up demand, as well.
Firm data on the numbers of Office 365 users is thin, but the company claims some major corporate customers, including Campbell Soup Company, Groupe Marie Claire, and Tata Steel Europe. At the same time, it has incentivized its reseller base (after initially pissing them off) with three months cash upfront payments for new accounts. During Microsoft's last earnings conference call, very little was said to indicate stellar growth – but Redmond may just be modest.
But the company is under strong pressure from Google – which, to be fair, also isn't forthcoming about Apps-user numbers – and tales have emerged of Microsoft offering massive discounts and audiences with Steve Ballmer himself to keep big clients.
Redmond has also upgraded Office 365 to work on OS X, and brokered a cross-platform deal with BlackBerryBusiness Cloud Services, which will further help its numbers.
Office 365 is undoubtedly growing, as are most cloud services that aren't irredeemably awful. But given the severity of the price cuts, the economies of scale argument rings a bit hollow. It's one of those justifications, like "our customers asked us for it," that are used all too often to mask other motives.
If you are considering buying into Office 365, now could be the time to bargain hard for even bigger discounts. The price cut also applies in the UK with immediate effect. ®