An Oracle mid-range ZFS storage array has beaten a NetApp filer on a SPEC benchmark, despite costing just one-fifth of the NetApp price.
The SPECsfs2008 is designed to evaluate the speed and request-handling capabilities of file servers utilising the NFSv3 and CIFS protocols. We're only concerned with NFS here.
The Sun ZFS 7320 scored 134,140 SPECsfs2008 IOPS with an overall response time of 1.51msecs and cost $179,602.
Oracle quotes a price of $1,215,290 for NetApp's FAS3270 which scored 101,183 IOPS with a 1.66msec response time.
Our chart includes a Huawei Symantec N8500 and a FAS6080 for added context. The Sun ZFS box beat the Netapp FAS6080, an old top-end box, tested in August 2009, as well. That shows how midrange filer performance has improved.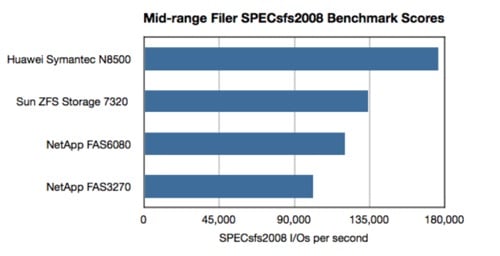 Mid-range filer SPECSfs2008 results
The NetApp FAS3270 system was tested in September 2010 and Oracle's box was tested in February 2012. The FAS3270 used 360 hard disk drives, while the newer ZFS box had 136 disk drives, six 512GB read cache SSDs and six 73GB write accelerating SSDs. It was 32 per cent faster and, really, you might have hoped it would be faster still. We wonder what a FlashCache-enhanced FAS3270 would do.
The Oracle-NetApp pricing difference is huge and, on the face of it, paying $1,035,698 more for 32 per cent less performance is not an attractive idea for a basic NFS file-serving box. ®