Review 'Budget tablet' is a phrase that tends to crop up in reviews that only ever reach one conclusion: the product is pretty awful. But the new Viewsonic Viewpad 10e may be the exception that proves the rule, because this £200 Argos-exclusive ain't half bad.
Viewsonic's Viewpad 10e adopts the iPad's 4 x 3 aspect ratio
To start with it's smart, slim – only 9.1mm thick – and at 620g reasonably light. It's well made too, with no physical rough edges and no flex to its body. The back is made of matt black plastic, but none the worse for that.
Up top and out of the way, you will find a power toggle, microSD, mini HDMI, micro USB and power sockets – alas no USB charging. There's also a 3.5mm combo mic/headphone jack. On the left side is a volume rocker and on the right, a reset button that I never had to use.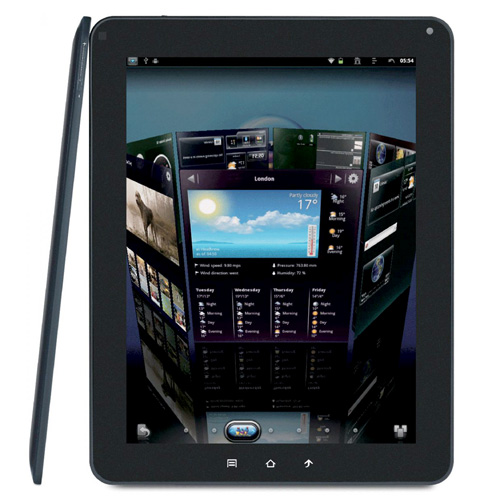 Budget price, but a bevy of features
What separates the 10e from the herd is its glass 9.7in, 768 x 1024 132dpi screen which makes the it the only Android tablet with an iPad-like aspect ratio. The LCD panel is also colourful and bright – to the tune of 400 nits, since you ask – while viewing angles are impressively robust.
Powering the show is a 1GHz single-core ARMv7 chip with 512MB of RAM which keeps everything moving along at a perfectly reasonable rate of knots and provides a smooth UI experience. Granted, it's no Asus Transformer Prime but if anyone tells you it's unusable or frustratingly slow, they are talking utter rubbish.
The 10e runs Android 2.3.1 but an Ice Cream Sandwich update is promised by ViewSonic any day now. To give a bespoke look to the UI you get a licenced version of SPB's visually impressive Shell 3D launcher.
Similar topics