A team of scientists have successfully implanted a bioelectronic fuel cell into a living organism and used its blood sugar to charge a battery.
The team from Potsdam, New York's Clarkson University (thankfully nothing to do with Top Gear) implanted a fuel cell that runs off glucose that is naturally produced by the snail, and as the gastropod feeds and rests, more glucose is generated and the cell produces more power.
According to research published in The Journal of American Chemical Society, the snails produced up to 7.45 microwatts, but production fell swiftly to just 20 per cent of output after 45 minutes as the gastropods ran out of juice. For a steady flow of power, output had to be ramped down to just 0.16 microwatts, but this could be sustained over long periods.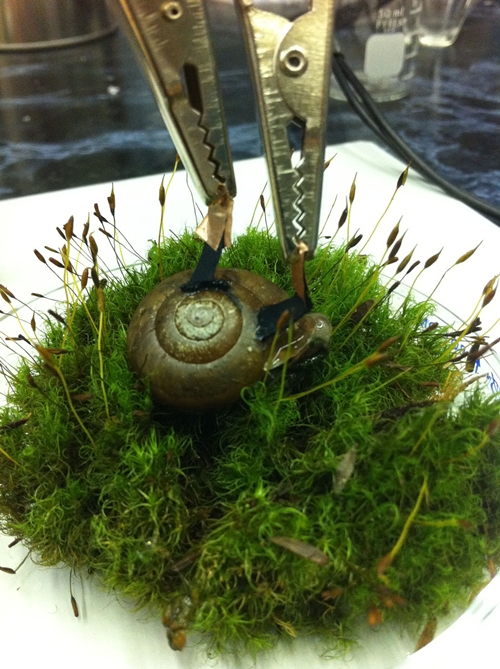 For the love of god, give me the blue pill
The project took 18 months and posed some interesting challenges, according to Evgeny Katz, the Milton Kerker Chaired Professor of Colloid Science at Clarkson University. He explained that there were two main thrusts to bioelectrical generation. First, looking at insects and other small animals whose movements could be harnessed for power generation, and second, looking at organisms that can generate power internally.
"In animals, blood oxygen is mostly in tied up hemoglobin, which is difficult to use," he told The Register. "But snails use soluble oxygen, so it was a little easier. Then again, with larger animals the blood stream moves faster, which may make it easier to extract more fuel."
The goal is a whole range of devices, from self-powered pacemakers to built-in electronics that use biological power generation or electricity generated by movement.
Just let's try and avoid the need for a Matrix-style snail that knows Kung Fu, shall we? ®