Rogue IPO bureaucrats feel MPs' red-hot probe
Sudden interest in how IP policy is made
---
A powerful all-party group of MPs will examine how IP policy is made in the UK in a new formal enquiry – firing a tranquilliser dart at executive agency the Intellectual Property Office.
John Whittingdale, chairman of the Select Committee on Culture Media and Sport, will lead the group, with Pete Wishart vice-chairing, under The All Party-Parliamentary Group on IP umbrella (APIP).
"Little examination has taken place of how government itself promotes and develops the protection of Intellectual Property Rights. We want to understand how IP policy is developed and co-ordinated to see whether the current arrangements are fit for purpose," said Whittingdale in a statement introducing the review.
APIP is inviting views on "the purpose of IP"; whether we've learned anything from the interminable carousel (Gowers, Hargreaves) of IP reviews; and – rather pointedly – "how effective... the Intellectual Property Office [is] and what ... its priorities [should] be".
APIP will also ponder which set of grown-ups is best to look after the People's Revolutionary Council of Newport, as the IPO has become known. When the Coalition took office in 2010, the IPO was an executive agency of the Ministry of Fun (DCMS), but now it answers (we use the term loosely) to the Business Department (BiS).
So what prompted this?
The ideology of the IPO and its lead role in creating government policy, rather than implementing it, have provided the catalyst for enquiry, we understand. The bureaucrats effectively ripped up the UK's international copyright position, and seemingly introduced a new one by stealth. Ministers were surprised to discover that the government now advocated "the widest possible exceptions to copyright within the existing EU framework" and that "there is a need for a wider set of exceptions at EU level" [stated by the IPO here.]
It's just as well the civil service hadn't decided to unilaterally declare war on Kazakhstan. Or France.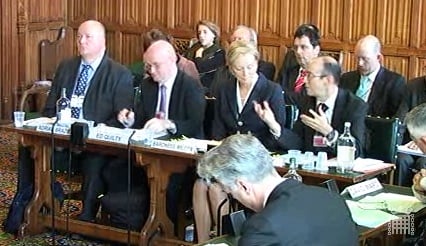 The IPO's copyright guru, Ed Quilty [centre], on a rare public outing
In addition, a clutch of other "innovations" were quietly introduced bearing either the government imprimatur or as consultation "recommendations". Copyright businesses ranging from games to music generally don't like compulsory licensing – it removes their ability to compete and set prices for their work. What they want is access to markets. Yet the IPO recommends an open-ended "extended collective licence" (ECL) framework that potentially takes large areas of economic activity away from the private sector and into a compulsory licence framework – which would see market destruction on an enormous scale.
The net result of these decisions is to break the cross-party, cross-industry consensus that IP is by-and-large a good thing, culturally and economically – even if parts of it need bringing up to date, and copyright-holders deserve the occasional kick up the bum.
UK IP policy now marches to a very different drum: the fashionable academic thinking is that IP is an impediment to modernity, and must be hacked away wherever possible. This meets with approval from academic theorists (for whom weakening IP is another death blow to capitalism) and bureaucrats (who are elevated by such schemes). These are two groups who (coincidentally) have spent their lives avoiding markets and the private sector, and their antipathy to it is deep. But it's hard to find support shared elsewhere. There is no reason to elevate one set of prejudices at the expense of another.
The IPO's private policy-making has, in effect, been an undemocratic coup.
One economic sector that does benefit from taking creators' rights out of markets are advertising-supported American web companies – the instigators of the current round of IP thinking. Whether APIP really wants to run across this political minefield – or has the time to – remains to be seen.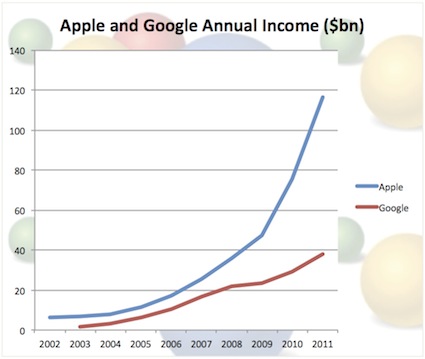 We ought to note that the digital economy of the future described by Google, Facebook and Yahoo! today will be a rather smaller economy than a transactional one could be, a world in which real money changes hands. Google has devoted a decade to lobbying against IP enforcement in order to maintain its advertising-supported pre-eminence. Google is happier being a big fish in a small pond, one in which the water everyone must swim is advertising and data-mining. Apple, by contrast, has encouraged the creation of content markets, and respected IP, and worked with rights-holders. Their respective fortunes are illustrated above.
There's also an interesting footnote to all this. As one reader noted, when you take cultural production and reward away from diverse and healthy markets, and hand it to a cabal of bureaucrats, then "the only creative people will then be the bureaucrats. It is The Ultimate Bureaucrat narcissism fantasy. Weird."
Weird, indeed. ®