Pic Austrian daredevil Felix Baumgartner is well on the way to breaking the highest free-fall record after successfully jumping yesterday from 71,581ft (21,817m)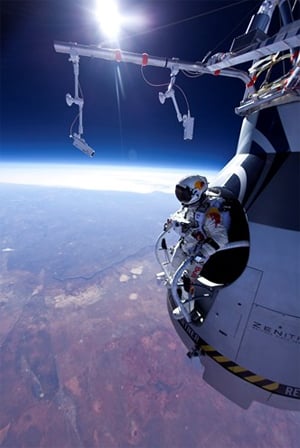 The Red Bull-sponsored high-flier took to the skies over Roswell, New Mexico in a custom-built pressurised space capsule and pressure suit, slung under a whopping helium balloon.
During the free fall part of the descent, Baumgartner hit an estimated 364MPH (586KMPH) before deploying his chute at 7,890ft (2,405m). He admitted that jumping from such an altitude was a disorientating experience, explaining: "I thought that I had to pull the parachute, then I looked at the altitude and realised that I'm still at 50,000 feet."
Baumgartner's escapade made him only the third man to jump from above 70,000ft (21,340m), along with the USSR's Eugene Andreev and US Air Force test pilot Joe Kittinger.
Andreev's effort was from 83,530ft (25,458m), in 1962, but the highest jump record is currently held by Kittinger, who managed to hit a maximum altitude of 102,800ft (31,330m) back in 1960.
In July, Baumgartner will attempt to claim the title with a jump from 120,000ft. ®