Eddie Murphy heading for worst movie ever glory
A Thousand Words takes a critical shoeing
Eddie Murphy looks a dead cert for the Razzies and possibly the worst movie ever award as critics queue up to give his A Thousand Words a righteous shoeing.
The movie currently rates 0% on Rotten Tomatoes "Tomatometer", based on 42 reviews. The website summarises the plot thus:
Eddie Murphy is Jack McCall, a fast-talking literary agent, who can close any deal, any time, any way. He has set his sights on New Age guru Dr. Sinja (Cliff Curtis) for his own selfish purposes. But Dr. Sinja is on to him, and Jack's life comes unglued after a magical Bodhi tree mysteriously appears in his backyard. With every word Jack speaks, a leaf falls from the tree and he realizes that when the last leaf falls, both he and the tree are toast.
Since Murphy's cinematic reputation is based largely on his fast-talking, wisecracking banter, it probably wasn't the brightest of ideas to cast him as a bloke who's obliged to keep his trap shut for the large part of A Thousand Words.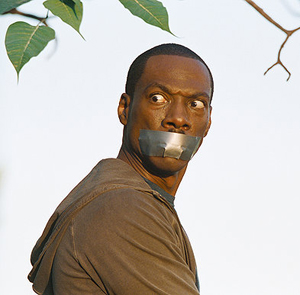 Actually, it certainly wasn't a bright idea, according to the critics. Roger Moore (no, not that one) down at the Kansas City Star said: "Murphy, without the words to go along with his bug-eyed double-takes and the mugging, is lost here. He's never been a silent comic, and never will be."
Liam Lacey at the Toronto Globe and Mail agreed. He wrote: "The idea of taking one of Hollywood's best-known motor-mouths and reducing him to mugging and charades is definitely novel - and utterly misguided."
It gets worse for the actor, whose performances in films such as the commendable Trading Places elevated him to the Tinsel Town top flight.
The improbably named Bilge Ebiri, down at Vulture, bitchslapped: "Does Eddie Murphy actually have any range, or is it just an illusion created by a few early edgy roles and, later, a lot of CGI makeup and fat suits?"
Ouch. Alison Willmore of Movieline further put the boot in with: "Remember Eddie Murphy? He used to be hilarious."
For the record, A Thousand Words is directed by Norbit helmsman Brian Robbins and penned by Steve Koren of Bruce Almighty fame. Whether it eventually achieves worst movie ever glory remains to be seen, although movie buffs will be aware it has some seriously tough competition.
Plan 9 From Outer Space is often considered the absolute nadir of the filmaker's art, although Battlefield Earth and Gigli have in more recent times plumbed the hellish cinematic depths.
This hack's personal nomination is Pearl Harbor. Those of you who haven't seen it are strongly advised not to do so. ®