Ring piece
As such the S100 comes with expert features such as AE lock, Manual focus, focus bracketing, RAW format support and fine control over advanced parameters such as noise reduction. Many such features are also available on more consumer-focused cameras too, but tend to be hidden away deep in the darkest recesses of the menu system.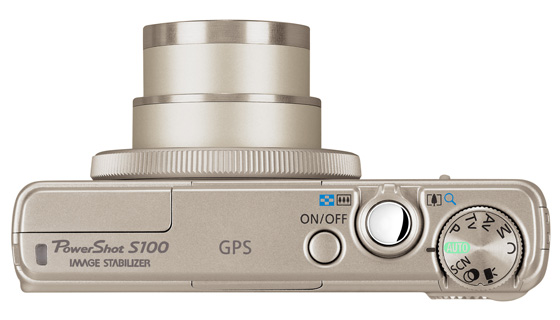 Retractable 5x zoom lens delivers a 35mm equivalent of a 24mm,f2 wide-angle
The key difference with the PowerShot S100 is that these functions are presented much as they would be on an SLR and if you're familiar with an of Canon's own EOS models you'll recognise the sparse, textual menu system which eschews the spinning animated graphics and attention-grabbing flourishes of standard consumer models.
You get quick, customisable access to all functions, meaning you can make adjustments quickly and easily without having to resort to the menus or take your eye off the subject.

The ring at the front offers easy control of a variety of manual functions
A clicky thumbwheel mode dial sits at the top right above a new rubberised thumb grip. There's also the usual four-way cursor controller-cum-input dial sitting at the rear. Individual buttons are provided to enter playback mode or the menu system and a new dedicated movie record button is also included.
A fourth button is used to select the function of the camera's lens-mounted control ring which is one of the PowerShot S100's most important features: By grabbing and twisting the ring you can adjust any of a selection nine functions. These include obvious candidates such as zoom or manual focus and also control over the aperture setting – something you can't adjust in this way even on the top of the range Canon SLRs.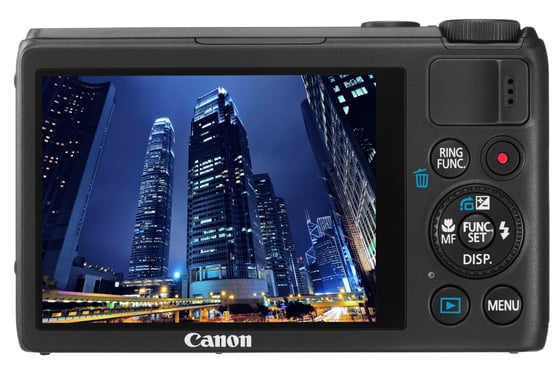 Familiar functions, but now the S100 features improved grip adornments
None of these control options would matter one jot without some serious specifications to back them up, and here the PowerShot S100 does not disappoint.
Top-notch optics are a given, and Canon has extended the zoom range of the PowerShot S95 at both the wide and telephoto ends to give us a range of 5.2mm to 26mm which translates to 24mm to 120mm in 35mm terms. This works out at a 5x zoom range – a significant increase on the 3.8x zoom of its predecessor but still relatively narrow in today's market.