It's nighttime in Barcelona, you can't find your hotel and your phone battery is dead. Double-A batteries won't go in a phone so you're screwed, unless you've read the following advice.
If a phone sports a removable battery then you can carry a charged spare, and there are numerous pocket chargers on the market, but they all depend on one being aware that the juice is going to run out before it happens. Alkaline batteries, on the other hand, can be obtained anywhere, so for our own benefit we thought it worth looking at the means by which one might avoid replicating the Barcelona experience.
On that occasion, as it happens, the phone's battery lasted long enough to get Gmail open and discover its cloudy nature required a data connection (£2 to Vodafone). There was even enough power to call the hotel and get half the directions, just enough, but it was not an experience one would want to repeat.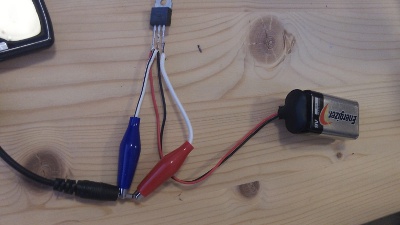 Getting female USB sockets is hard, but crocodile clips make for universal connectors
USB connections need 5 volts, and between 500mA and an amp-and-a-half, depending on the device being charged (tablets taking more, basic phones less). So a simple voltage regulator can step down the 9v from a battery to the 5v. Maplin will sell you one for 99 pence, but you'll need another £1.19 for the battery clip and a USB cable to cut up for the connections.
Following the nice instructions over at Indestructibles we got a Motorola RAZR charged up to 15 per cent in half an hour, from a standard 9v box-type battery, and without any noticeable heat coming off the regulator though that might be more of a problem if we were to encase it.
For a more commercial offering, the Rolson Emergency Phone Charger only costs £4.17 and takes a single AA. It comes with a selection of connectors and will charge an iPhone too (iPhones need a special circuit to confirm it's a proper connector; it's not complicated but we didn't have one to test).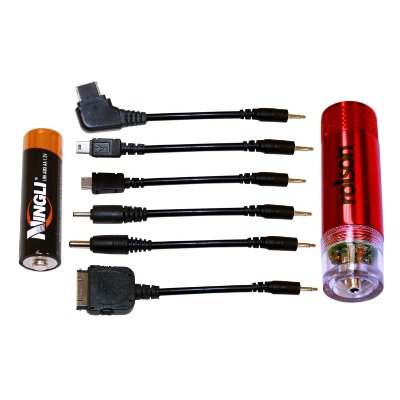 More robust, but less aesthetically pleasing, than the home-grown variety
The Rolson feels robust; it comes blister-packed with a battery that slots into the metal tube which crews shut like a Martian flying machine. There's also an LED which flashes when power is being sucked into the phone, though when we tested that LED flashed for a good hour despite the phone reaching peak charge in half that time.
A single AA, plugged into the same RAZR, took the battery up to just over 10 per cent in that half hour – still more than enough to check an address and make the all-important call.
But if that seems a bit pricy for what is basically a battery-holder, then there's always the "Neewer" charger which comes in at a couple of quid, though for some unknown reason we ended up with two of them.
You don't get batteries included, or a selection of cables (the Neewer has a female USB into which one plugs an existing cable), neither does it come with anything in the way of instructions. But it does have an inexplicable torch, and will take a pair of AA batteries to charge up whatever one plugs into it.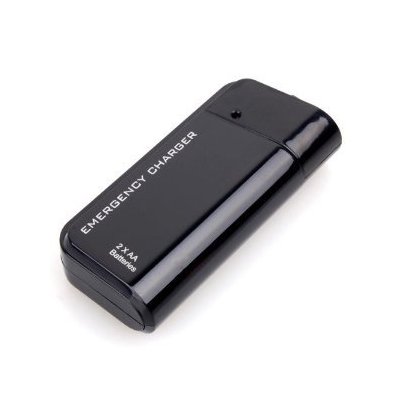 It has an LED torch too, in case you're trying to charge up in the dark
The Neewer feels plastic, 'cos it is, but both the units we received work perfectly and were able to charge our RAZR up by more than 20 per cent over the course of an hour.
That's still not a full charge, and there are rechargeable solutions which will deliver more punch more quickly, but we'll be dropping a Neewer into the bottom of each suitcase in future. Even if it never gets used its worth it, if only to avoid the risk of a night on the Barcelona streets. ®