NEC shows off ultra-thin battery
Bendy battery packs a punch
NEC has announced the development of an ORB (organic radical battery) which it says can be printed into circuit boards as thin as 0.3mm – making it suitable for applications like credit cards and bendable screens.
The company expects to have the batteries ready for production in 2013.
The new ORB, part of an ongoing project at NEC's research labs, is also thin enough to be incorporated onto electronic papers.
A 3cm square form of the 0.3mm battery can deliver 3mAh – able to update a small screen display 2,000 times on one charge, with a charge cycle capability similar to that of lithium-ion batteries.
The company has been working on ORBs for some years – an early announcement was made back in 2005 – not only because they're thin, but also because they don't need the toxic heavy metals that are the foundation of today's batteries. Instead, ORBs use a reaction of salts in a polymer gel.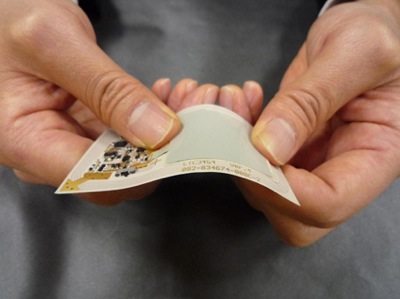 NEC's organic radical battery
Organic radicals – molecular entities possessing an unpaired electron – aren't that uncommon. According to this 2005 paper, they're often observed as intermediaries in petrochemical and thermal reactions. One of the key tricks in using them for an application like NEC's batteries is to modify the radical into a more stable compound.
The company's research suggests that ORBs could attain energy densities surpassing those of conventional heavy metal-based batteries. ®