One thing Apple's doing with its massive cash mountain: giving punters more iPad for their money. The News iPad - aka the iPad 3 - costs as much to buy as the iPad 2 did, but it costs a lot more to make.
Case in point: the 16GB Wi-Fi only iPad 2 has an estimated bill-of-materials and assembly cost of $245.10 per unit, market watcher IHS iSuppli calculates.
The 16GB Wi-Fi only iPad 3's parts and manufacturing cost comes to $316.05 - 30 per cent more. Yet both retailed at $499/£399 at launch.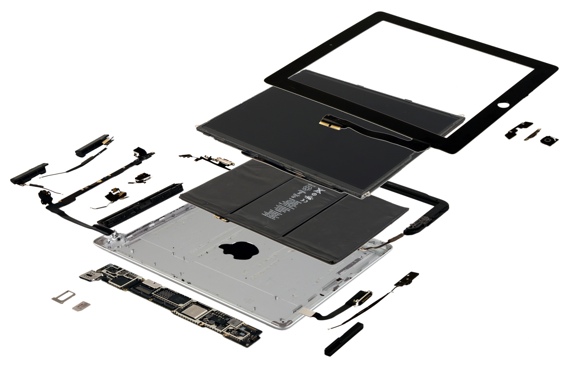 Internally, it's the 2048 x 1536 display, A5X processor, the bigger battery - the new tablet's innards are mostly power storage - and 5Mp camera that lift the the iPad 3's BoM well above that of the iPad 2.
The new "retina" display, for instance, is $30 more than the iPad 2's $57 screen, iSuppli reckons. Likewise, the A5X costs $23, whereas the old A5 comes in at $14.20. The new camera, at $12.35, is $8.25 more expensive than its predecessor.
Samsung supplies the most parts, iSuppli said, but since Apple uses multiple suppliers for key components - Samsung and Toshiba for Flash storage chips, for example - the disassembly of any given iPad will not necessarily show what's in all of them.
Ultimately, what matters is that Apple has cannily taken the extra cost on the chin when it could easily have charged an extra $100 or so for the iPad 3 as a premium model. Keeping the price tag - and reducing that of the iPad 2 - should ensure Apple maintains market leadership and keep it ahead of Android for a little longer. ®