Windows 8 tablet freezes in Microsoft keynote demo
Houston, Metro UI's got a problem
---
Convergence 2012 You've got to hand it to Kirill Tatarinov, the head of Microsoft's ERP division. The Russian Rocket was cool as a cucumber on Monday when a demo of the Windows 8 Metro UI running on a touch-screen tablet crashed and burned during the opening keynote of Convergence 2012.
Microsoft is indeed making big, bold bets with the upcoming release of Windows 8, which Microsoft touts as the first operating system to run across multiple devices – from phones to tablets to "slates" to e-readers to laptops to rich clients to television boxes. And Microsoft is also planning to imbue its ERP and CRM applications with Windows 8's Metro UI, although that feature is not expected to be available until 2013.
The keynopte audience got a sneak peak of the new Metro UI being used to access a Dynamics ERP system at yesterday's Houston, Texas, soirée. But the demo didn't quite go as planned.
The demo was led by Fred Studer, general manager of Microsoft's ERP product management group. Things were going so smoothly, as Studer effortlessly navigated through ERP screens by swiping his finger across the tablet's screen. Compared to those nasty text-only interfaces that many associate with ERP systems of old, working on a Microsoft ERP system from a tablet actually looks like fun – in an Angry Birds kind of way.
When Studer handed the tablet over to Tatarinov to let him submit a change to the system, the tablet suddenly froze. The two Microsoft employees frantically started pushing different buttons to get it unstuck, but nothing seemed to work. Luckily, there was a second tablet available on stage that was working, so the changes for the hypothetical app were successfully written to the pretend database, and all was well.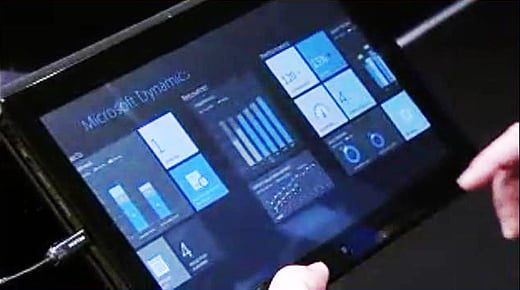 Microsoft demoed how its ERP systems can be accessed on a tablet using Windows 8 and its Metro UI ...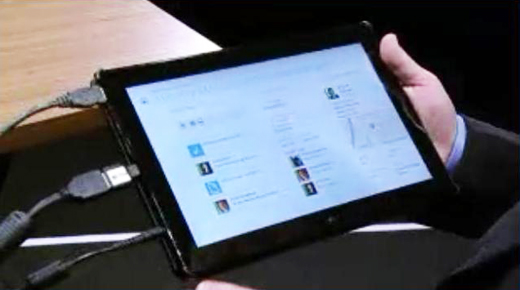 ... and luckily, there was a second tablet available when the first one froze
Tatarinov acknowledged the gaffe – and actually managed (or attempted to, anyway) to turn the frozen Metro UI it into a positive. "This is a work in progress folks, as you can see here," he said. "I think this is a good proof point that this is actually real stuff that we're showing here."
Studer – perhaps hoping that nobody in the audience or on the internet noticed that the Windows 8 tablet had suddenly turned into a fancy paperweight – blurted out: "I hope you guys love that dynamic experience in Windows 8!" as he left the stage.
Completely unfazed, Tatarinov continued his presentation, and talked about the importance of social interaction in a business setting. In addition to enabling customers to access its ERP and CRM systems from any device at any time, Microsoft is busy building all kinds of social-media hooks into its ERP and CRM systems.
"As you can see here, I'm able to interact with the system, and as I update, the system tells me what's going on," Tatarinov continued. "I can see what's going on and stay connected. It's really taking this modern way to communicate into very specific business contexts."
Earlier in his presentation, Tatarinov oversaw another demo of the new retail version of Dynamic AX that went a little better. The company showed how a fake retailer called Contoso Electronics is employing some of the new, cutting edge consumer-oriented features available from Microsoft, including voice interaction, use of a large "slate" touch-screen interface, and social media integration. Instead of pushing buttons on a keyboard or a Windows 8 tablet, employees can do stuff by barking commands at Dynamics AX ("Dynamics, price! Dynamics, stay!") Consumers can also interact with the Microsoft e-tailing system, and even get a discount from signing in via Facebook.
This is all part of what Tatarinov's calls the "immersive experience" that will become commonplace for future business applications. "The traditional world of business applications has been filled with solutions that are hard to implement and almost impossible to customize," he said. "The approach we're taking ... is simplicity. We're making sure we truly deliver a solution that's intuitive, that your people love, that your people would want to use."
In Microsoft's vision, the traditional legacy system of record will transform into the new system of engagement. "We're essentially enabling you to break the electronic concrete of the past and move your business to the future, by connecting your people, by enabling your people to communicate and collaborate in real time, and by taking all the wealth of communication, collaboration, and social networking opportunities, and apply those into very specific business scenarios," Tatarinov said. ®