Twitter and Facebook are failing to create the sort of news revolution that some Web2.0 junkies might like to believe is already largely in play, a new report about the current state of media has revealed.
Pew Research Center (PRC), which surveyed 3,000 participants in the US, found in its new study that "recommendations from friends are not a major factor yet in steering news consumption."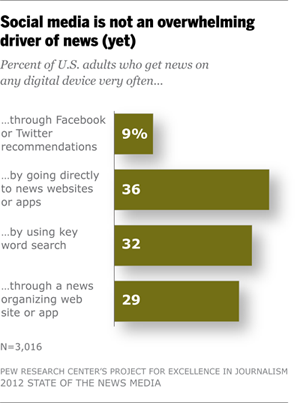 News websites are still the place most people visit to get their daily digest of current affairs.
The PRC described Facebook and Twitter as being "pathways to news" but added that their role had been somewhat over-hyped.
"The population that uses these networks for news at all is still relatively small, especially the part that does so very often," researchers said.
"Moreover, these social media news consumers have not given up other methods of getting news, such [as] going directly to websites, using apps or through search. In other words, social media are additional paths to news, not replacements for more traditional ones."
Unsurprisingly, the same survey noted that Twitter and Facebook were perceived differently by their respective users.
"Facebook news users get more news from friends and family and see it as news they might well have gotten someplace else if Facebook did not exist," the PRC said.
"For Twitter users, though, the news links come from a more even mix of family and friends and news organisations. Most of these users also feel that without Twitter, they would have missed this kind of news."
A relatively small-fry 9 per cent of people clicked on news links recommended by chums on social networks "very often", compared with 36 per cent who go directly to a news website for stories. A further 32 per cent of current affairs fans browse for news via web searches, while 29 per cent of Americans used an aggregator or app to access the same information.
The 2012 State of the News Media Report found that one in four Americans surveyed sucked up their news from mobile gadgets, which means that the consumption of journalism is happening across a range of different devices.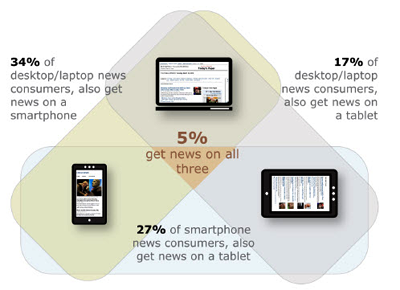 Indeed, those people who do nothing else but fondle their slabs all day long are the same crowd who gobble up the most news through social media.
PRC said that 67 per cent of smartphone and tablet users happily follow news "Likes" on Facebook, while 39 per cent of them click on news links shared on Twitter.
In contrast, the report found that only 41 per cent of computer users clicked on a news post through Facebook. It also noted that only 9 per cent of that bunch of PC-holdouts would consume their news via links shared on Twitter. ®
Similar topics